Bjørn Elmquist, a Danish attorney specializing in criminal law on crimes against humanity has written to the International Criminal Court (ICC) in Hague Netherlands to bring war crimes charges against Sri Lankan officials alleged to have committed war-crimes against Tamils in the NorthEast of Sri Lanka. The legal effort is being initiated by three Danish Tamils and the Denmark Tamil Forum. The DTF officials told TamilNet that the Danish legal effort is being closely co-ordinated with the recent legal action undertaken by Swiss Council of Eelam Tamils (SCET).
Danish TV: Actvists Rights Walk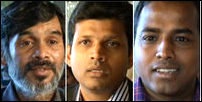 The petition was filed following a Human Rights walk lasting more than a week by Danish Tamils, Manoharan Manoranjithan, Maheswaran Ponnampalam, Pratheepan Thambyaiyah, who started in front of Korning Council on 14th October, and completed the walk in front Copenhagen Administrative building on the 23rd October.
Attorney Elmquist and European Member of Parliament Søren Søndergaard, who met the Tamils assembled in Copenhagen to greet the three Rights campaigners, said the more than 11 European countries that obtained financial benefits by supplying arms to the Colombo Government also share a blame in the 2009 massacre of Tamil civilians, and these countries should pressure European Union to carve out a separate state for Tamils.
Attorney Elmquist added that he has assembled the evidentiary material to take the case against alleged perpertrators of war-crimes. "The ICC charges, once filed, will limit travel by alleged perpetrators to countries that are signotories to the Rome treaty that governs the ICC," Elmquist told the audience.
A spokesperson from Tamils Against Genocide (TAG), a US-based activist organization supporting legal efforts, said "Attempting to file legal action against Sri Lanka's alleged war-criminals in all available judicial forums across the world is a prudent and practical step to find justice to the NorthEast Tamils. While there will likely be setbacks, the training and experience gained in understanding the criminal procedures and nuances of different legal systems and engaging with local attorneys will help the current and growing generation of Tamils to make progress towards ultimately bringing the killers of 40,000 Tamils to justice."
111 out of the 195 countries are signatories to Rome Statute. Only 7 countries in the Asian continent, Afghanistan, Bangladesh, Cambodia, Mongolia, the Republic of Korea and Timor‐Leste and Japan, have ratified the Rome Statute.
India, China, Pakistan and Sri Lanka have not ratified the Rome Statute.
(For updates you can share with your friends, follow TNN on Facebook and Twitter )