"The foundation for this causeway and bridge was laid down 7 times since 1940's, but it was only my government that managed to complete the project," claimed Sri Lankan President Mahinda Rajapaksa in opening a causeway and bridge in the SL military-occupied Tamil country in the island, between Keara-theevu of the Jaffna peninsula and Changkup-piddi in Poonakari of the main island on Sunday. The causeway as used to be called Mahadeva Thaampoathi was first built in British times and the present bridge, doing away with the ferry route in between points of the causeway, has been built by British Steel Corporation, aiding the island. Mr. Rajapaksa made no mention of the British aid at the inauguration and the obscured British officials were found seated only among the audience.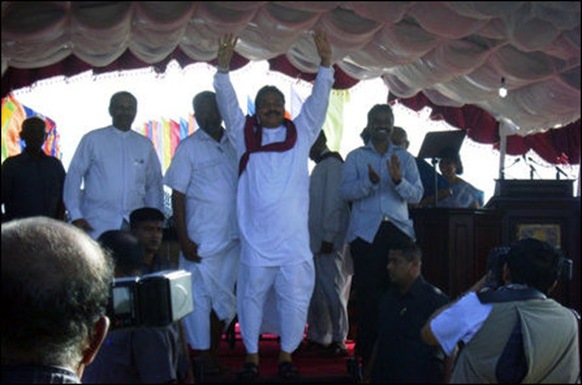 "I will do what I say and I will say what I do," Mahinda Rajapaksa declared.
SL President's brother Basil Rajapaksa, EPDP leader and a minister in Rajapaksa's cabinet Douglas Devananda and the governor of SL military occupied Jaffna, Maj. Gen. Chandrasri, were present on the stage.
Local journalists, who went to cover the event, including reporters from Uthayan daily, were harassed and returned, as paramilitary men denied them entry.
The SL Presidential Secretariat has brought down journalists from Colombo to cover the event.
Large number of recent Sinhala settlers from Naavatkuzhi in Jaffna and intimidated civilians from Vanni were brought to the occasion.
The causeway remained prohibited for public use for the last 18 years.
Even though a bridge is now linking the causeway, making a straight passage between Jaffna and Mannaar, the feeder roads in the peninsula and in the Vanni mainland have not been developed.
A recent Sinhala colony has been established at the strategic junction, Naavatkuzhi, where this A-32 highway from Mannaar, after crossing the causeway and the bridge and leading towards Jaffna, joins the other major highway, A9 Jaffna – Kandy Road.
Major SL military establishments at regular intervals are located along the highway at Poonakari, Mallaavi and at Tha'l'laadi.
So far, there is no announcement when civilians would be able to use the causeway. In recent times, only the occupying military has been using the causeway.
Development of this coastal highway is vital for the communication integration with India as there are plans to extend it upto Colombo through Vilpattu and as it is linking the Thalaimannaar-Rameswaram ferry route.
The British government has spent one billion Sri Lankan rupees to construct the 288-meter long and 7.5-meter wide bridge and the joining causeway. The British Steel Corporation carried out the construction, civil sources in Jaffna said.
(For updates you can share with your friends, follow TNN on Facebook and Twitter )