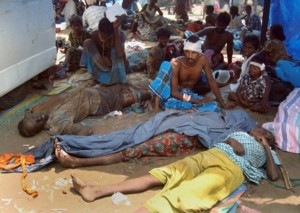 The Sri Lankan government has contradicted the United Nations on the civilian death toll during the final stages of the war between the military and Tamil Tiger rebels in the north of the country.
In a report made public on Sunday the government said that around 8,000 civilians had died during the final few months of the battle in 2009 and not nearly 40,000 as claimed in a UN report.
The Sri Lankan Department of Census and Statistics in its report titled Enumeration of Vital Events (EVE) said that 11,172 deaths were recorded in the north in 2009 including 8,000 deaths due to the fighting during the first five months of 2009.
The Sri Lankan military and the Tamil Tigers were engaged in a bitter final war during the first few months of 2009 and the rebels were eventually defeated in May of that year.
A UN report released last year had said that around 40,000 civilians were killed during the final battle and the report also accused the Sri Lankan military of committing war crimes in its attempt to defeat the rebels.
According to the 80-page report of the Sri Lankan Department of Census and Statistics a total of 22,329 deaths were recorded in the northern Jaffna, Mannar, Vavuniya, Mullativu and Kilinochchi districts during the five years before the end of the conflict in May 2009.
The deaths were categorized under old/sick, natural disaster, accident, homicide and suicide, other which includes the deaths due to fighting, and unknown causes.
Natural deaths include deaths due to succumbing to diseases, aging and natural disasters while 'other deaths' include deaths due to accidents, homicides, suicides and acts of terrorism.
In 2009, a total of 7,934 people died due to 'other deaths' and 2,523 died due to natural causes, the report made public by the Sri Lankan government information department said.
Out of the total deaths during the final stages of the war 6,858, including 552 children under the age of 10 were killed due to the fighting and another 2,635 were reported missing.
Most of those killed between January and May 2009 were from the Kilinochchi district, and area which was known as the de facto capital of the rebels, the report said.
FULL REPORT: http://www.statistics.gov.lk/PopHouSat/VitalStatistics/EVE2011_FinalReport.pdf
(For updates you can share with your friends, follow TNN on Facebook and Twitter )