Tamil journalists from various media organizations came together on Monday in Jaffna with civil society members and student representatives of various faculties of the Jaffna University, to pay tribute to the slain war correspondent in Syria, Marie Colvin, who had been in the island covering the conflict earlier. Paying floral tribute, the event, organized by Nimalarajan Memorial Foundation, remembered the late Marie Colvin as a Journalist Friend of Tamils. Meanwhile, remembering Marie Colvin in the diaspora, the London-based International Association of Tamil Journalists came out with a tribute last Thursday, saluting her courage, discipline and commitment to her work and to humanity.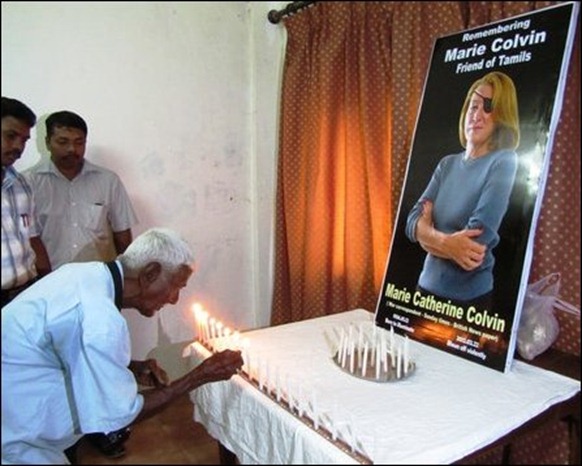 Senior journalist K. Kathiravelu paying tribute to the late Ms. Marie Colvin
In the memorial event held in Jaffna, Editor of Yaazh Thinakkural Mr. A. Rajeevan, President of the student union of the Vavuniyaa campus of the Jaffna University Mr. Sakthi, the Director of Media Resource and Training Centre of the Jaffna University V. Thevananth and the Jaffna reporter of Lankadeepa and Dailymirror, Mr. Parameswaran, delivered speeches. The event took place at Yaazhpaadi hotel from 3:00 p.m. to 4:30 p.m.
Professor R. Sivachanthiran of the Jaffna University and Ms. S. Rachel, a doctoral research fellow from UK, currently engaged in a field research on the political developments in the island between 2005 and 2010, also took part at the event.
Rachel who spoke at the memorial event said that the journalists from remote cities get together to honour Marie Colvin because she was a peoples' journalist and said that it was an honour for her to attend the memorial event of Marie Colvin in Jaffna.
Thinakkural Editor Rajeevan in his address said Marie Colvin, who risked her life in covering the conflict in the island, remained attached to the Eezham Tamils throughout, and it was that attachment that made her to become a key witness to the final hours in Vanni. Her contribution was significant in raising the global awareness, he said.
Marie Colvin will always remain an inspiration to the Tamil journalists, who continue their work under severe threat to press freedom, said Mr. Thevananth in his speech.
Meanwhile, in a statement issued on behalf of the London-based International Association of Tamil Jouranlists, former BBC Tamil service journalist Ms. Aanandhi Suryapirakasam said that Marie would always be fondly remembered by the Tamil community all over the world.
A section of participants at the memorial event in Jaffna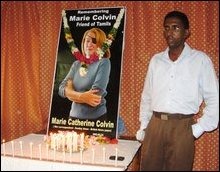 Editor of Yaazh Thinakkural, A. Rajeevan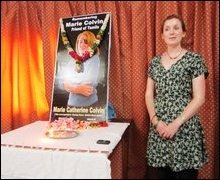 S. Rachel, a doctoral research fellow from UK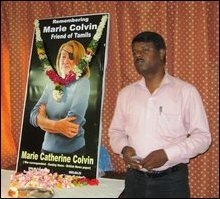 Director of Media Resource and Training Centre in Jaffna University, V. Thevananth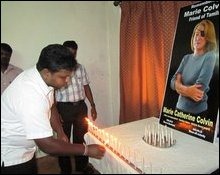 (For updates you can share with your friends, follow TNN on Facebook and Twitter )