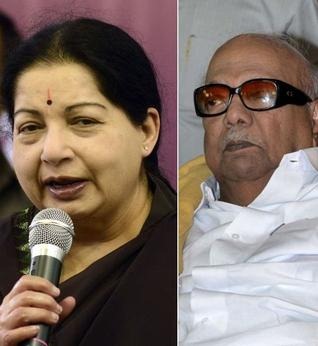 Jayalalithaa, Karunanidhi want India to back resolution seeking probe into war crimes
Shocked by reports that India is set to strongly back Sri Lanka in case a United States-backed resolution is taken up in the ongoing session of the United Nations Human Rights Council in Geneva seeking an inquiry into allegations of war crimes in the last stage of the civil war, leaders from Tamil Nadu on Wednesday appealed to the Centre not to bail out the island nation.
Chief Minister Jayalalithaa wrote to Prime Minister Manmohan Singh insisting that "India should support the U.S.-backed resolution and strongly condemn the Sri Lankan government when the same is brought forward in the Council."
Dravida Munnetra Kazhagam president M. Karunanidhi, an ally of the Congress-led United Progressive Alliance government at the Centre, also demanded that India not vote in favour of Sri Lanka.
In her letter, Ms. Jayalalithaa recalled a resolution passed by the Tamil Nadu Assembly on June 8, 2011, urging the Government of India to take up the issue of war crimes with the U.N. and to declare those found guilty of war crimes against Tamils as war criminals.
The resolution had also demanded that India work alongside other nations to impose an economic embargo on Sri Lanka until Tamils living in post-war camps were fully rehabilitated and given equal Constitutional rights on a par with the Sinhalese. While she was under the impression that the government was pursuing action based on the Assembly resolution, she had come across media reports that quoted a Sri Lankan spokesperson expressing confidence about India's support to the Sri Lankan position, she said and added that she wanted to reiterate the State's stand in this regard.
In his statement, Mr. Karunanidhi took note of Sri Lankan Minister Mahinda Samarasinghe's assertion that India will stand by his country when the resolution sponsored by countries such as the U.S., France and Norway is placed for voting. He said the DMK's high-level executive committee on April 24, 2011 had adopted a resolution calling upon India to take steps to bring to book those who were responsible for such war crimes, instead of justifying the argument that killing of people was inevitable in a war.
Marumalarchi Dravida Munnetra Kazhagam general secretary Vaiko, in a letter to Prime Minister Manmohan Singh, stated that India should support such a resolution to take steps to evolve a mechanism to investigate the war crimes and genocide committed by the Sri Lankan government against the Tamils.
(For updates you can share with your friends, follow TNN on Facebook and Twitter )