People from Sri Lanka's Muslim minority have been demonstrating at the United Nations headquarters in Colombo, urging that the country's government be shielded from criticism at the current session of the UN Human Rights Council.
It's the latest in a series of government-backed and government-organised demonstrations which have continued throughout this week. But an opposition party has condemned what it says are systematic continuing human rights violations.
After prayers
About 200 Muslims including government politicians staged a protest at the UN compound after Friday prayers, saying Sri Lanka was now at peace and its rights record should not be scrutinised in Geneva.
There were similar demonstrations at a city mosque and by workers in two government departments.
No tear gas for pro government demos
Earlier this week thousands took part in organised government rallies, including a big one at the railway station where opposition demonstrations had earlier been dispersed with teargas.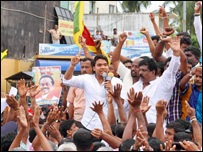 The government has sent dozens of officials to the Human Rights Council to try and ensure that a planned US motion critical of Sri Lanka is defeated.
It says it is moving towards post-war reconciliation, for instance by having an army panel investigate certain allegations of civilians being killed.
Independent investigation, not possible
However the Brussels-based International Crisis Group says in a new report that such an investigation cannot be truly independent.
(For updates you can share with your friends, follow TNN on Facebook and Twitter )