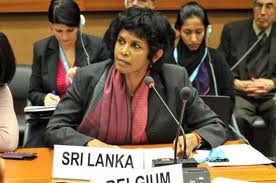 Sri Lanka, on Friday, came down hard on the UN Human Rights Council (UNHRC) and the UN High Commissioner for Human Rights Navi Pillay saying neither had the authority to demand a debate on the report of the Lessons Learned and Reconciliation Commission (LLRC) or the report of the UN panel of experts.
Sri Lanka's Permanent Representative to the United Nations in Geneva, Ambassador Tamara Kunanayakam, also said that the Human Rights Council itselfwas created in response to the politicization, selectivity and double standards of the former Commission.
"The Universal Periodic Review is the appropriate mechanism to discuss progress made in the promotion and protection of human rights of all countries. Sri Lanka will be presenting its report during the second cycle of the UPR in October this year. In the Council, there is no provision that permits debates and resolutions on processes that did not generate from the four corners of the institution- building of the Council," she said in a hard hitting statement.
Her statement came after Pillay referred to Sri Lanka in her statement on Friday and called upon the UNHRC to address the LLRC report and the UN expert panel report on Sri Lanka.
"We have taken note of the comments made by the High Commissioner (Navi Pillay) on the report of the Lessons Learnt and Reconciliation Commission and while unreservedly dissenting with the observations of the High Commissioner on its domestic process vis a vis the UN Secretary General's Panel,  we would like to highlight,  at the expense of repetition, that the LLRC report reflects the emblematic parameters of rule of law strategies, which have been earnestly taken note of by my Government  for speedy implementation," Ambassador Kunanayakam said.
She said that a dangerous precedent is again sought to be established by way of a debate on the recommendations of a domestic process which Sri Lanka condemns as a retrogressive step that undermines the constitutional parameters of this Council.
"You will appreciate that the panel report that the High Commissioner referred to, was the culmination of a private consultation that the Secretary General sought to advise himself and is not the product or a request of the Human Rights Council, the General Assembly nor any other UN body. Its mandate did not extend to fact finding or investigation. In its report the Panel also makes it patently clear that the assertions set out therein remain unsubstantiated and require a higher standard of proof," she added.
(For updates you can share with your friends, follow TNN on Facebook and Twitter )