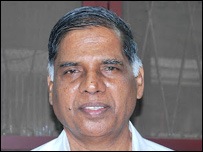 The Communist Party of India (CPM) has accused the Indian government of not doing enough to find a politicial solution to resolve grievances of Sri Lanka's Tamils.
Staging a protest in Chennai, South India, the CPM (Marxist) said that India should intervene to safeguard the human rights of Tamils in Sri Lanka.
Pointing out that there were allegations that Sri Lankan forces committed human rights violation during the final stages of the civil war in Sri Lanka, the Secretary of the CPM, G Ramakrishnan said "actions should be taken against the Sri Lankan army and Sri Lankan government on alleged abuses".
Condemning the lack of progress in negotiations between the Sri Lankan government and Tamil National Alliance (TNA), Mr Ramakrishnan said that the extensive presence of the military in northern Sri Lanka is affecting the day to day life of Tamils in the area.
"Army is ruling Tamils areas. There are no human rights and freedom for them. To achieve political solution, we demand Indian government to intervene," said Mr Ramakrishnan.
Condemning the Indian government's attitude of not giving attention to the plight of Sri Lankan Tamils, he refered to the recommendations by the government-appointed Lessons Learnt and Reconciliation Commission (LLRC).
"LLRC recommended that Army should be withdrawn from Tamil areas and solution should be found through talks. That has reiterated in the United Nations Human Rights Council."
(For updates you can share with your friends, follow TNN on Facebook and Twitter )