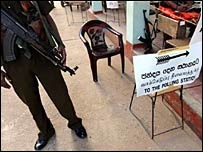 United National Party (UNP) quoting the elections commissioner (EC) said nearly 10-15% of people out of 21,000 registered voters in Pudukudiiruppu (PDK) and Maritimepattu in Mullaitivu district are either dead or missing.
"Therefore, we requested the election commissioner to consider issuing temporary identity cards," Dr Jayalath Jayawardene, MP, told BBC Sandeshaya after a meeting with the Commissioner Mahinda Deshapriya on Tuesday.
He said party representatives requested EC Deshapriya to arrange special public transport for the election day.
Executive Director of Campaign for Free and Fair Elections (CaFFE), Rajith Keerthi Tennakoon says that over half of eligible voters in the two Pradeshiya Sabhas do not possess national identity cards.
Military intervention
The representatives have also requested the commissioner to allow candidates and parties to meet those voters who are still in refugee camps.
Election for the two pradeshiya sabhas were not held together with other local government elections quoting security issues.
Hundreds of voters from the two electorates where the final days of Sri Lanka's war raged are yet to be resettled.
V Thirunavukarasu of Nava Sama Samaja Party (NSSP) said the commissioner agreed to allow candidates who are still in refugee camps to engage in campaigning.
"We requested the police not to allow any interference by the military in the election campaign," he said.
Representing Janatha Vimukthi Peramuna (JVP), Sunil Watagala, said Commissioner Deshapriya pledged to personally monitor the minimising of military intervention during the election.
Counting the dead
According to Sri Lankan government statistics released recently, about 9,000 people died in the war-torn north of Sri Lanka during the controversial final phase of the war.
More than 7,000 of the deaths appear to be directly related to the military battle.
The Catholic Bishop of Mannar had earlier stated to a presidential war commission that nearly 1,50,000 people from the battle zone seem to have gone missing.
In a submission to the Lessons Learnt and Reconciliation Commission (LLRC) quoting information from local government authorities, Bishop Rayappu Joseph said that 146,679 people seem to be unaccounted for.
Local council elections for Pudukudiyiruppu (PDK) and Maritimepattu are to be held on the 24th of March.
(For updates you can share with your friends, follow TNN on Facebook and Twitter )