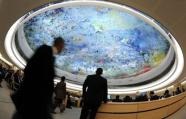 Sri Lanka on Thursday dismissed as "ill-timed and ill-conceived" a US move at the UN Human Rights Council to censure Colombo over alleged crimes against humanity in the final phase of its separatist war.
Water Supply Minister Dinesh Gunawardena said Sri Lanka was confident of defeating the three-point resolution at the UNHRC sessions in Geneva urging the island to probe alleged war crimes.
"This resolution is ill-timed, ill-conceived and borne out of ignorance," Gunawardena, who is also the chief government whip in parliament, told reporters. He accused the US of ignoring Sri Lanka's reconciliation moves.
Sri Lanka has faced strong international criticism over the bloody finale of its separatist war in 2009 but has avoided censure at previous UN meetings thanks to support from China and Russia.
The US resolution, seen by AFP, urges Sri Lanka to ensure "justice, equity, accountability and reconciliation" and says Colombo's own probe, the Lessons Learnt and Reconciliation Commission, did not adequately address concerns.
The Sri Lankan government initiated nationwide demonstrations last month to coincide with the opening of the UNHRC sessions and denounced Washington for leading international calls for a war crimes probe.
Rights groups say up to 40,000 civilians perished in the final months of Colombo's military campaign to crush the Tamil Tigers, who waged a bloody decades-long campaign for a separate homeland for minority Tamils.
(For updates you can share with your friends, follow TNN on Facebook and Twitter )