Noting the U.S. ambassador to UNHRC Eileen Donahoe's statement that the resolution forwarded by the U.S. has been toned down from an earlier version that sought a government action plan on accountability and reconciliation by June, to now calling for the U.N. Human Rights Commissioner to report to the council a year from now on the steps Sri Lanka has taken," Professor Boyle, an expert in international law and a keen observer of Sri Lanka politics, said the U.S. Government is going along with the Government of Sri Lanka (GoSL) strategy to run the clock out on the Tamils, just as the Israelis are doing to the Palestinians with USA support. The Tamil diaspora and supporters like us should not fall into this trap, but instead come up with a entirely new strategy."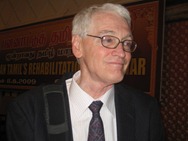 "I served as Legal Adviser to the Palestinian Delegation to the Middle East Peace Negotiations starting in the Fall of 1991. Since that time, Israel's strategy has always been to STALL AND DELAY while they destroy the Palestinians.
"The entire world is going along with that strategy. GoSL is doing the same thing to the Tamils here. And the entire world is going along with it. We are being treated like the Palestinians. We need to come up with an entirely new strategy.
"If we proceed down this path there will never be GoSL accountability for anything. GoSL will drag it all out until the Tamils are dead. Stall for time until the clock runs out like at a basketball game or a football game when the your side is ahead. GoSL is trying to run out the clock on us," Boyle said in a note sent to TamilNet.
(For updates you can share with your friends, follow TNN on Facebook and Twitter )