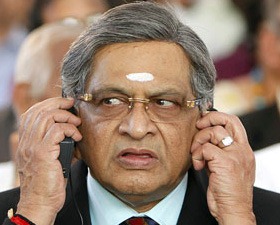 A day after MPs from Tamil Nadu brought Parliament to a standstill over Sri Lankan war crimes, External Affairs Minister SM Krishna is due to make a statement in the Rajya Sabha on Wednesday over the sensitive issue.
In his statement, Krishna will make clear the stand which the government plans to take at a meeting of the United Nations High Commission on Human Rights (UNHCHR) in Geneva where a resolution on Sri Lanka would be adopted.
The parties from Tamil Nadu, mainly the DMK and the AIADMK, want India to vote against Sri Lanka on an US-sponsored resolution before the United Nations High Commission on Human Rights (UNHCHR) in Geneva on the war crimes.
Parliament had yesterday witnessed uproarious scenes over allegations of "war crimes" during Sri Lanka's bloody civil war with the Liberation Tigers of Tamil Eelam (LTTE) that ended in 2009 with the killing of the rebel leader Vellupillai Prabhakaran.
Seeking to mollify the MPs from Tamil Nadu, the government informed Parliament that no date had yet been finalised for the debate at the international forum on the war crimes resolution.
"Our traditional stand has been that we have never supported any country-specific resolution at the UNHCHR," Finance Minister Pranab Mukherjee told the Lok Sabha.
He said India's stand can be decided in due course, adding that Prime Minister Manmohan Singh had already written two letters to Tamil Nadu Chief Minister J Jayalalithaa and DMK chief M Karunanidhi on the issue.
In his letter to Karunanidhi, the Prime Minister said India attaches "high priority" to the safety, prosperity and well-being of the Tamil community in Sri Lanka.
He also said that New Delhi has been consistent in drawing Colombo's attention for a political settlement since the end of the internal conflict three years ago.
"We are engaged with all parties in an effort to achieve an outcome that is forward-looking and that ensures that rather than deepening confrontation and mistrust between concerned parties, a way forward is found on issues related to accountability and reconciliation."
(For updates you can share with your friends, follow TNN on Facebook and Twitter )