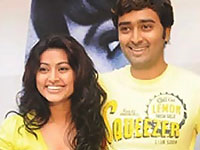 Love affairs are incomplete without pet names, one can say. It is a so common among lovers to call their sweethearts with nick names. And Prasanna and Sneha, K-town's latest 'love jodi', are no exception to this.
"I would address Sneha with a lot of pet names. One among them is Kannamma. Because I like Bharathiyar poems and a lot. Also, there are other names for Sneha, like Pappu, Bebu and Pachchu. It depends on the mood," says Prasanna.
On how Sneha would call him, Prasanna says, "She too is no inferior. Sneha has named me Kanna and Dada. I have saved her number as Pachchu in my mobile and she has saved my mobile number as Dada in her cell phone."
Saying that they would speak with each other at least once an hour, Prasanna, who is set to marry Sneha soon, adds: "We miss each other a lot only during flight journeys. Because, we would be forced to stay away even without a phone call for hours together."
(For updates you can share with your friends, follow TNN on Facebook and Twitter )