Flies swarming over dead bodies of small children; a man screaming for help while carrying his badly wounded child ; a mother sitting besides her dying children and crying uncontrollably; makeshift hospitals swamped with wounded civililans; people trapped without food or medicine; and supposedly "trophy videos" of captured rebels, including the slain LTTE chief V Prabhakaran's 12-year-old unarmed son Balakandran Prabhakaran allegedly "executed" by Sri Lankan forces.
These are some of the shocking images from the controversial documentary, Sri Lanka's Killing Fields: War Crimes Unpunished, screened by Britain's Channel 4 on Wednesday amid protests from the Sri Lankan High Commission in London which described the claims made in it as "spurious" and "uncorroborated".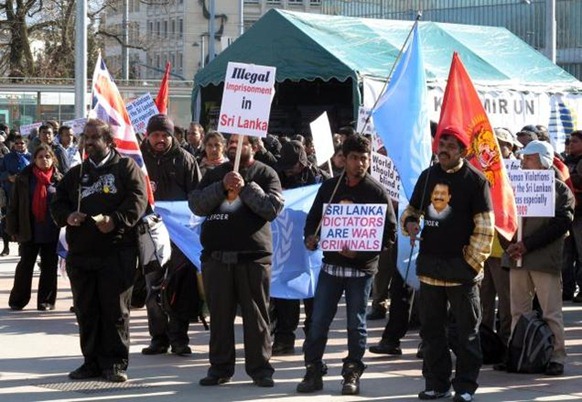 AP – Sri Lankan Tamils protest outside the United Nations' European headquarters to demand an international investigation of alleged war crimes in Sri Lanka, in Geneva, Switzerland. File photo.
The most controversial part of the 50-minute film is the footage of Balakandran's bullet-ridden body. It shows a 12-year-old boy lying on the ground –stripped to the waist and with bullet holes in his chest. The film claims that he was "brutally executed" by security forces.
Besides him lie the bodies of five men believed to be his bodyguards.
While Colombo has questioned its authenticity calling it "concocted", Channel 4 insists that it is "authentic" .
Callum McCrae, producer and director of the film, told The Hindu that it had been examined and "authenticated" by a leading "forensic pathologist" Professor Derrick Pounder.
"This is murder. No doubt about it," Prof Pounder says.
The footage dating from May 18, 2009 appeared to have been shot as a "grotesque trophy video by Sri Lankan forces", according to Mr McCrae.
The film quotes an unnamed "senior" Sri Lankan officer as saying in a sworn affidavit that Balachandran was "interrogated" before being shot. Mr McCrae said the Channel 4 had "examined the document and found it to be genuine".
The film purports to show "new video evidence of war crimes" including contemporaneous documents, eye-witness accounts, and stills relating to how exactly events unfolded during the final days of the 26-year-old civil war that ended in May 2009.
Through interviews and footage, the film claims that the responsibility for what happened points to the "the highest levels of the Sri Lankan government including President Rajapaska and his brother, the Defence Secretary Gotabhaya Rajapakse".
It asks, "how did the world let it happen?" and appeals to the United Nations and the international community to ensure that "the victims are not forgotten" .
(For updates you can share with your friends, follow TNN on Facebook and Twitter )