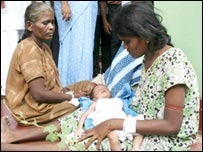 Women who have lost their husbands and sons in Sri Lanka's decades-long conflict have been forced to turn to prostitution, say women's rights activists.
Geetha Lakmini of World Fisherfolk Solidarity Movement said over 85,000 women were widowed in the north and east after the war.
"One village in Madhu area is infamous for prostitution because they have no men, no jobs and there is no other way of survival," she told journalists in Colombo.
"The only way to feed their children is to sell their body."
Many war widows still do not get any compensation announced by the government, she added.
Accountability
A conference on war affected women also heard that thousands affected women are currently suffering from serious physical illnesses including headaches, high blood pressure as well as psychological illnesses such as depression.
The executive director of Viluthu Centre for Human Resource Development, Shantini Satchitanandan said that many countries investigated alleged war crimes after a conflict mainly as an attempt to console psychologically impaired war-affected women.
"They say the reconciliation is a long process. It should go on. It should go on for these women to find out what exactly happen to their husbands, loved ones," she said commenting on the need for accountability after a civil war.
"Accountability is demonstrating to the world that we are human beings," she added.
(For updates you can share with your friends, follow TNN on Facebook and Twitter )