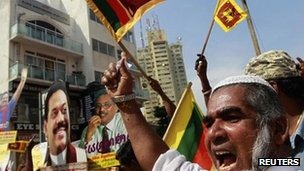 Sri Lanka's government is braced for a UN Human Rights Council debate on alleged war crimes during the final phase of war with Tamil rebels in 2009.
A US resolution calls on Colombo to address alleged abuses of international humanitarian law during the war.
Sri Lanka has rejected the motion and expressed outrage over the move.
It comes amid a government campaign against what it calls "traitors", which has targeted journalists and human rights workers.
State television is using long slots in its Sinhala-language bulletins to denounce Sri Lankan journalists, some now in exile but some still in the country, who it says are helping the defeated Tamil Tiger rebels or "betraying the motherland".
Those based in Sri Lanka are not named but the TV repeatedly zooms in on thinly disguised photographs of them, promising to give their names soon and "expose more traitors".
State media have been similarly deprecating human rights workers who are in Geneva for the Human Rights Council session, the BBC's Charles Haviland in Colombo says.
A local organisation, the Free Media Movement, has condemned the broadcasts as "highly unethical". Such state broadcasts have in the past resulted in violent attacks on some accused people.
India's vote
Sri Lanka's army defeated the separatist Tamil Tigers in May 2009, putting an end to 26 years of brutal civil war – but the final phase of that war has been the source of considerable controversy, with both sides accused of war crimes.
The resolution tabled by the US:
asks the government to explain how it will address alleged violations of international humanitarian law

asks how Sri Lanka will implement the recommendations of an internal inquiry into the war

encourages the UN human rights office to offer Sri Lanka advice and assistance and the government to accept such advice
Thousands of people, including some religious clerics and former military officers, have taken part in marches to protest against the resolution in recent weeks.
Earlier this week, Indian Prime Minister Manmohan Singh said India was "inclined" to vote in favour of a resolution against Sri Lanka at the UN Human Rights Council.
He has come under pressure from India's Tamil community to support the resolution.
The Sri Lankan government commissioned its own investigation into the war last year.
Its Lessons Learnt and Reconciliation Commission (LLRC) cleared the military of allegations that it deliberately attacked civilians. It said that there had been some violations by troops, although only at an individual level.
But another report commissioned by the UN secretary general reached a different conclusion, saying that allegations of serious rights violations were "credible" on both sides.
(For updates you can share with your friends, follow TNN on Facebook and Twitter )