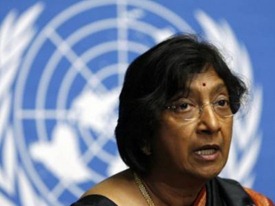 Spokesperson for the UN High Commissioner for Human Rights Rupert Colville quoting Miss Pillay said that during this Human Rights Council session, there has been an unprecedented and totally unacceptable level of threats, harassment and intimidation directed at Sri Lankan activists who had travelled to Geneva to engage in the debate, including by members of the 71-member official Sri Lankan government delegation. Intimidation and harassment of Sri Lankan civil society activists have also been reported in other locations around Geneva.
On the other hand, the Sri Lankan ambassador in Geneva received an anonymous threatening letter which is being followed up by the police and UN security.
At the same time in Sri Lanka itself, newspapers, news websites and TV and radio stations have since January been running a continuous campaign of vilification, including naming and in many cases picturing activists, describing them as an "NGO gang" and repeatedly accusing them of treason, mercenary activities and association with terrorism. Some of these reports have contained barely veiled incitement and threats of retaliation. At least two comments posted by readers of articles of this type have called for burning down of the houses of the civil society activists named in the articles, and at least one such comment called openly for them to be killed.
The High Commissioner has noted that some of the attacks on human rights defenders were carried in Sri Lankan state media and Government websites or were filed by journalists who had been officially accredited to the Human Rights Council session by the Sri Lankan permanent mission. She is calling on the Government to ensure the protection of human rights defenders, to publicly disassociate itself from such statements, and to clearly uphold the right of Sri Lankan citizens to freely engage in international debate of this kind.
The High Commissioner has also noted that Sri Lanka's own Lessons Learned and Reconciliation Commission, in its report published in December, made extensive and positive references to the role civil society can play in reconciliation and rehabilitation efforts, and stressed this would require greater tolerance towards differing views within Sri Lankan civil society and the protection of Sri Lankan human rights defenders.
(For updates you can share with your friends, follow TNN on Facebook and Twitter )