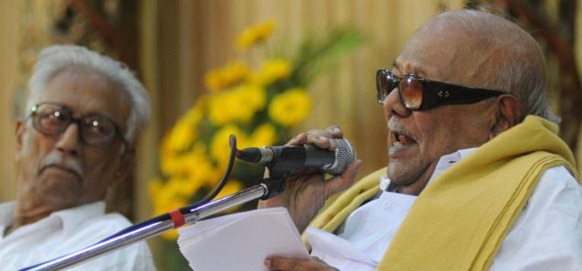 Continuing the war of words over the Lankan Tamils issue, DMK chief M Karunanidhi on Friday slammed Tamil Nadu Chief Minister Jayalalithaa for initially criticising the Prime Minister for his statement in Parliament on a U.S.-sponsored resolution against Sri Lanka and later welcoming India's stand while claiming credit for herself.
"The same Jayalalithaa who criticised the Prime Minister saying he had made a non-committal reply (on India supporting the resolution against Sri Lanka for alleged war crimes at the UNHRC) and that it was regrettable, has now thanked the Prime Minister," he said in a party statement.
Taking a dig at the Chief Minister for saying that she had moved a resolution in the Assembly last year seeking economic sanctions against Sri Lanka, Mr. Karunanidhi recalled that she had also moved a resolution in April 2002 seeking extradition of slain LTTE chief V Prabhakaran to India.
He said she had arrested LTTE supporters under the then POTA laws and charged her with misleading the people now by saying that she had written to Prime Minister Manmohan Singh demanding that New Delhi back the resolution.
Responding to her description of his party's activities in this regard as a "drama," the DMK chief recalled Ms. Jayalalithaa's statement in 2009 saying civilian casualty was common, when the conflict between Lankan army and LTTE was at its peak, and that India did not have the right to stop the war.
(For updates you can share with your friends, follow TNN on Facebook and Twitter )