Among the Government's several post-war efforts, the long process of rehabilitating former LTTE combatants has not escaped without its fair share of criticism and speculation.
On one hand, it is hard to deny that progress is indeed taking place, when there have been so many reports over the last three years or so, of hundreds, and thousands, of former LTTE combatants being 'reintegrated' into society.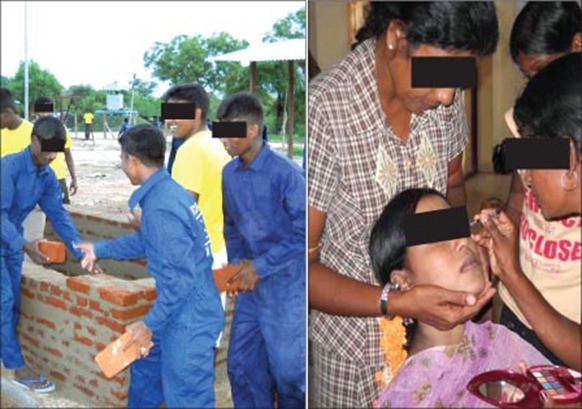 On the other hand, the process has also been questioned on several levels: did these people sign up for 'rehabilitation' voluntarily? What exactly do these programmes comprise? Has it been of any benefit to them and their families? Have those in rehabilitation, at any point, had to face harassment, abuse or torture?
Allegations made by human rights watchdog, Amnesty International (AI), in a recent report, are perhaps the latest to create such doubts with regard to the rehabilitation process.
In this report, Locked Away: Sri Lanka's Unlawful Security Detainees, AI claims that, "In reality, as is evident from the testimony of former detainees, the "rehabilitation" process was anything but voluntary. Detainees either did not know they had a choice about rehabilitation or were led to believe that the choice was rehabilitation or a lengthy prison term. They were tortured in custody, and punished if they tried to escape."
Meanwhile, the Tamil National Alliance (TNA), although not as strong in its accusations, also pointed to certain issues faced by those who underwent this rehabilitation process.
TNA MP Suresh Premachandran said that he has met with ex-LTTE cadres who had completed the rehabilitation programme, but who, despite having received some vocational training, were finding it hard to secure a livelihood.
"The Government said they are giving them training on various matters, but to start their work the Government is not giving them any help," said Premachandran, explaining that provision of necessary equipment, and basic assistance, was lacking.
He also claimed that the authorities kept a tab on those who had undergone rehabilitation, and that they were "under surveillance of the intelligence."
Authorities in charge of this rehabilitation process, however, have not only denied these allegations, but have also expressed a lot of confidence in it contributing towards peace and reconciliation.
According to Brigadier Dharshana Hettiarachchi, who recently took over as Commissioner General for Rehabilitation, those who have undergone the rehabilitation process "are very happy" with what they have received.
"What must be understood is that most of them are very young, and had been brainwashed. They had not been given any opportunity to interact with other communities," he explained.
As a result, he said, the training these 'rehabilitation beneficiaries' received, presented new opportunities for their future.
Responding to allegations made against the system, Brigadier Hettiarachchi denied that the ex-LTTE cadres had ever been harassed, abused or tortured. The training programmes were conducted by professionals, with little military involvement, he said.
He also stated that, contrary to other claims, they were not kept under surveillance following their release, and that, during the course of the programme, their families were allowed to visit, and they too were given time off to visit family.
Denying that any of the ex-combatants ever tried to escape rehabilitation, Brigadier Hettiarachchi however said that there had been occasions when some had run away from hospitals, when they had been hospitalized due to natural illnesses.
He said that although officers from the cadet corps, both male and female, were appointed to help overlook these programmes, "these officers are basically teachers, and they have never been harsh on them."
He added that the experience had been an altogether new one, for both the officers and the ex-combatants.
Initially, around 11,900 combatants had surrendered to the armed forces at the end of the war. While those believed to have been hard-core LTTE members were detained or taken in for questioning, others were sent into rehabilitation.
Brigadier Hettiarachchi also claimed that most of them had signed up for rehabilitation voluntarily, while others were sent as per court orders.
The rehabilitation programmes were varied in their nature, he said, explaining that they received basic as well as specialized training.
"There are about 34 categories of vocational training," the Commissioner General noted. These are conducted by both private and public sector organizations, he added. Among the private companies handling training programmes are Holcim, who provide a masonry course, and the David Peiris Company, who conduct motor mechanic and three wheel repairing courses.
The women, meanwhile, have also been given the options of taking up courses in beauty culture and bridal dressing, among others, he said.
Brigadier Hettiarachci also said, however, that they were unable to provide exact details as to the jobs these people took up after their release. According to records, over 5,000 beneficiaries have thus far informed the authorities of their employment.
"But we expect the figures to be much higher, as these are only the people who have informed us so far," said Brigadier Hettiarachchi.
He admitted that although there were cases of ex-combatants who found it hard to get jobs, this was a matter that was being looked into.
"Some of them will be needing loans to start up on their own, and the Government has already allocated Rs. 300 million for this purpose," he said. He also said that they were working with the Foreign Employment Bureau, to explore the possibilities of sending them abroad for employment.
In the meantime, educational programmes are also being conducted for the general public, he said, to ensure some positive attitudinal change towards these former LTTE combatants.
(For updates you can share with your friends, follow TNN on Facebook and Twitter )