The High Commissioner of Sri Lanka to Australia, Admiral (retd) Tissara Samarasinghe, who was the former SL Navy commander during the times of the genocidal war, was confronted at Epping, a suburb of Sydney in Australia, by Eezham Tamil protestors on Sunday, when the commander alleged of war-crimes came to Epping Leisure Centre to attend a question-and-answer session organized by the so-called Sri Lankan Reconciliation Forum (SLRF).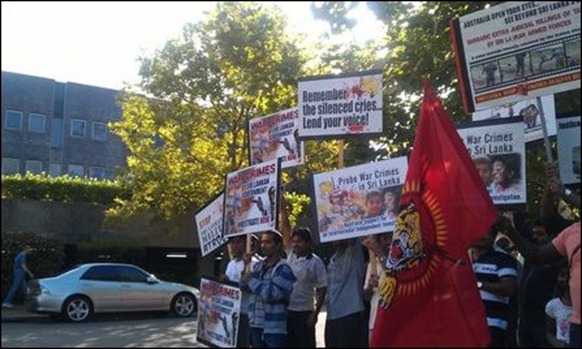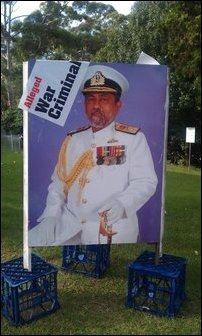 The area of Epping in NSW has a large population of Sinhalese expatriates. Tissara Samarasinghe and the SLRF did not therefore expect a large protest by the Tamil disapora.
Unable to avert the embarrassment the organizers tried to con the Tamil people and requested them to come inside and ask questions.
However, the Eezham Tamil protestors refused to engage with the 'reconciliation' propagandists and responded to them by saying that they will not accept speaking to an alleged war criminal.
"This forum is organized to hoodwink the Australian community into believing that there is an actual reconciliation process taking place in the island of Sri Lanka," Seran Sribalan, an Eezham Tamil artist and activist from Sydney told TamilNet.
"Until justice is served we will continue to protest every time Tisara Samarasinghe sets foot in Sydney and we will continue to fight until our people and our land is free," Mr. Seran Sribalan further said.
"Reconciliation is not something that can take place whilst the Tamil people live without any meaningful political space. Nor can it take place after numerous lies over the last 60 years from the Sri Lankan Government, after 60 years of continuing genocide by the Sri Lankan Government and whilst war criminals such as Tisara Samarasinghe are in positions of power," he said.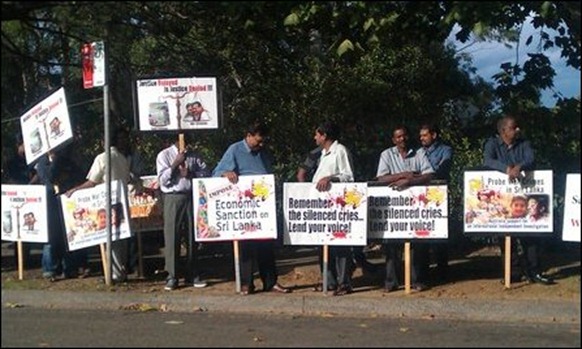 (For updates you can share with your friends, follow TNN on Facebook and Twitter )