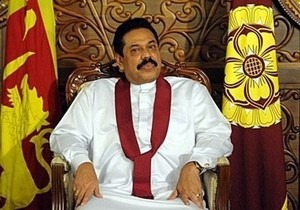 (Green Left Weekly By Chris Slee, Melbourne) About 200 people attended a meeting on Sri Lanka organised by People for Human Rights and Equality, a group of people of Sri Lankan origin now living in Australia.
The meeting was addressed by Basil Fernando, a director of the Asian Human Rights Commission, and Britto Fernando, co-convener of the Platform For Freedom, a coalition of groups in Sri Lanka campaigning for freedom of expression and the right to live.
Basil Fernando spoke about the problems with Sri Lanka's legal system. He said the constitution gives the president most of the power. The courts cannot challenge the actions of the executive.
He said this allows the army and police to violate human rights with impunity. Alleged criminals are often punished outside of any legal process. Some are "shot while trying to escape" after being taken into police custody. Others just disappear without explanation.
Thousands of people have been detained without trial under emergency laws.
Basil Fernando said the decline of the legal system began with the government's panic reaction to the 1971 People's Liberation Front (JVP) uprising. The JVP was a radical group based among rural Sinhala youth in the south of Sri Lanka.
However, the problem began well before the JVP uprising. But before 1971, state repression mainly affected the Tamil minority, not the Sinhalese majority.
He described Sri Lanka's 1948 constitution as "democratic". But under that constitution Tamil plantation workers were deprived of citizenship, speakers of the Tamil language were denied equal rights, and Tamil protests were violently repressed.
Britto Fernando told the meeting about the hypocrisy of the current president, Mahinda Rajapksa. During the second JVP rebellion of 1987-89, Rajapaksa was a lawyer who defended alleged JVP supporters and campaigned against the repression. Today, his government is responsible for similar abuses to those he once condemned.
In 1989, Rajapaksa went to the United Nations to ask for action against the widespread disappearances of alleged JVP supporters. Today, his government accuses human rights activists who went to the recent UN Human Rights Council session, where Sri Lanka was discussed, of being "traitors".
(For updates you can share with your friends, follow TNN on Facebook and Twitter )