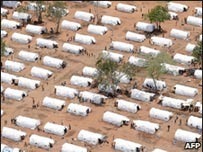 A mini cyclone that swept through northern part of Sri Lanka has displaced over two thousand war refugees in the Manik Farm camp.
According to Settikulam police, cyclone which began slowly with rain at about six a clock on Saturday evening lasted for an hour.
As soon as the cyclone hit the area power supply and telecommunication services went out of order said our correspondent Dinasena Ratugamage.
"When the cyclone started, people started to run around, we do not know about the damage because we do not have electricity at the moment," one of the affected women in the camp told BBC Sandeshaya.
200 houses destroyed
Police said that nine people injured by the debris had been admitted to the hospital.
Settikulam police confirmed that over two hundred houses were destroyed.
Apart from the police none other relief services were available to assist
the refugees at the moment.
(For updates you can share with your friends, follow TNN on Facebook and Twitter )