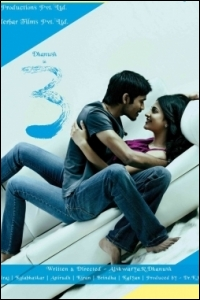 3 MOVIE REVIEW
Review by : Behindwoods Review Board
Starring: Dhanush, Shruthi Haasan
Direction: Aishwarya Dhanush
Music: Anirudh
Production: Vimala Geetha
A simple song that garnered as many flashbulbs as possible leading to an expectation level of epic proportion of the film in which it is featured is finally out. And when the flick happens to be the debut directorial work of Aishwarya Dhanush, it is but natural that the spotlight is completely swivelled on 3.
For her maiden film Aishwarya has taken a common and ubiquitous premise, love and relationships, accompanied by a suspense element in the script. Her spouse, Dhanush has immensely supported her to translate her vision on the larger canvas by giving one of his best performances.
Simple dialogues and neat performances help Aishwarya in this sojourn of hers. However it is the doddering script and slow narration that works against 3 in a major way. Aishwarya finds it difficult to give her audience an immersive experience.
Dhanush- Need we say anything on this talented artist? He is in a different higher league and can sail across any role. Having said that, we cannot rule out the hangover of Mayakkam Enna in this film.
For Shruthi who gets a meaty role in 3 manages to dish out a neat performance although struggling hard in the heavy duty emotional scenes. It is also difficult to accept her as a middle class Tamil girl with her Semitic looks but she scores well with her timid and frightened demeanour as a school going girl.
Prabhu, Bhanupriya and Rohini prove time and again that they are after all seasoned performers.
Dhanush is blessed with the looks of a school or a college boy while the same cannot be said about Siva Karthikeyan who nevertheless takes charge of comedy department in the first half but is totally missing in the second half. In the same way, Sundar Ramu who is not shown in proximity with Dhanush in the first part emerges as a pivot all of a sudden in the second half.
Music of Anirudh is the biggest plus of 3 and the picturization of the much in rage Kolaveri does not disappoint although it appears at a time when the going is quite serious.
As regards the technical department, cinematographer Velraj and editor Kola Bhaskar have worked as per the dictates of the film. The difference in looks, costumes and body language in the different age group of Dhanush and Shruthi is well delineated.
There are a few aspects which are quite implausible and unexplained like Dhanush tying the mangalsutra to Shruthi in the pub although his parents are not against his marriage. And it's surprising that when there is an issue of serious proportion, why it is not conveyed to Prabhu and Bhanupriya especially when they are shown as such lovable parents.
Verdict: Good performances, slower narration
(For updates you can share with your friends, follow TNN on Facebook and Twitter )