The first democratically elected President of the Maldives and recently ousted President Mohammed Nasheed, clamouring for democracy urges an early election to save his people from brutality after the the February 7 coup, what he described as a coup against a constitutionally-elected government.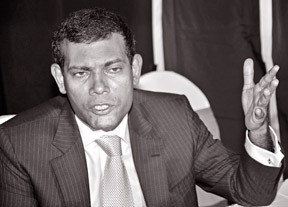 Declaring his 'battle' against the 'shadows' of former President Maumoon Abdul Gayoom, who ruled the country for over 30 years, he said his opponent in the next election would definitely be Gayoom.
In an exclusive interview with the Sunday Observer he called the present government to declare early elections to restore democracy and end political turmoil in the Maldives.
After meeting Sri Lankan political leaders and also Colombo-based diplomats to seek assistance for his pro-democracy campaign, Nasheed also held a press conference just a few hours before flying to Male.
Nasheed, the spokesperson for the drowning islands and who was nick-named 'Mandela of the Maldives' as he was frequently arrested and jailed by the Gayoom government said despite all the threats he would continue to face any situation created by the Gayoom-led government.
"For the last 20 years they tried to charge me on various allegations and I have always been able to come out of them, face them, stand for elections and win it.
I will continue to do so", he said adding that there is no need to change the country's constitution to go for an early election.
The climate-change activist and journalist, Nasheed explained his fall of power in a dramatic episode which threw him forcefully at gun-point, the present political turmoil eight weeks after the coup the role of the international community to assist the Maldives and the need to reform the judiciary, military and the Police.
Nasheed contributed to the documentary 'The Island President' by Jon Shenk about his political struggle to save the Maldives, an archipelago of some 2,000 islands in the Indian Ocean and facing the danger of sinking due to sea level rise.
Being the spokesman for the small islands threatened with the sea level rising is the 4th President of the Maldives and became popular as an advocate in climate change after holding a cabinet meeting underwater to highlight the threat of global warming affecting the Maldives.
Following are the excerpts of the interview:
Q: You are calling for an early election and how possible is it within a short period of time while President Waheed is saying it is not possible?
A: Well, it is indeed very strange any democratic politician would argue against any election. The transfer of power was illegitimate and the government has to legitimise itself first. The only way to do that is by asking the people.
Why are we in a hurry calling for elections because all the governments are suppose to be formed through the consent of the people, who are supposed to formulate government policies and who should govern them.
In the absence of that what we have in the Maldives today is the consolidation of a dictatorship. Without a legitimate the government being established, there is room for dictatorship to take root.
Q: You didn't mention the word 'coup' when you made your speech after your resignation. Why do you call the drama a 'coup' now?
A: I couldn't use the word coup earlier as it was a forced resignation.
While I was giving the speech the military perpetrators were just behind me in the next room and they wanted me to say certain things.
In fact they kept me under arrest for the next 18 hours. I was able to leave the President's residence not with their consent but with the assistance of some military personalities who were guarding me at that time.
Q: Why doesn't your party agree with President Waheed's All Party Conference where you can have a discussion on early elections?
A: I think it is very wrong to say that we are not engaged in talks. We are having talks and we don't have any intention to stop talking. We don't believe that issues can be solved through violence.
We have to be able to sit down, discuss and to reach an amicable solution. We still remain at the table and we will continue to remain at the table to find a solution.
Q: Are you confident that you can secure power again if there is an election?
A: Yes, I am confident that people will vote for me. But more than that the essential factor is that we can,t have a government without the consent of the people.
Q: Do you think an early election is possible only through constitutional change?
A: No. Technically speaking we don't need any constitutional change and there is nothing technically affecting to have elections tomorrow. Have you heard of a constitution that doesn't give room for an election.
Any leader in any country can go for an election at any time and that is true democracy.
Q: At this jucture, where you call the entire episode as a coup, do you seek foreign intervention or foreign pressure?
A: We lived in an inter-dependent world among the family of nations and the Maldives can't be isolated. We are a member of the international community and we must talk and listen to other people.
International agencies including the Commonwealth, EU, and the Indian and US governments are also calling for early elections during 2012.
They have come to a point that elections are very important. It was shocking to see how rapidly the Indian and US government stepped in to recognise the new regime.
I think that it took them a while to understand what was going on and then they found out it was not possible to maintain the present order.
These two governments have made many re-alignments in their policies. It was disappointing at the beginning,
Q: You claimed that there is a need for a clean-up in military and the police and they didn't support you. How are you going to face elections with the same military who still hold power?
A: Yes. the same corrupt military group remains in the system.
We just had the by-elections of one of the local council elections and we have two parliamentary by-elections next month.
The Election Commissioner very clearly said they have the capacity to conduct elections. But there are over 300 mutious soldiers still within the security forces.
We must be able to contain them not only during an event of an election but on every night as they are going into houses and take people out and are beating them.
The beauty of the Maldives is how resilient the Maldivians are to brutality.
Yes, I strongly believe the Maldives need reform in the military, police service and the judiciary.
As soon as there is a transfer of power, we must rapidly move in and must create a more professional military and police force. Right now they more look like a gang.
It's easy to get rid of a dictator. But it is not that simple to flush all the networks and intricacies of a dictatorship.
Q: In this reform process do you intend to seek the assistance of Sri Lankan government to train your military?
A: Yes of course, I have had discussions with friendly countries including Sri Lanka on the need to reform our police and military.
The best example for military professionalism is Col. Ziath, who stood with the Constitution during the coup.
He was the best cadet in the 2005 batch passed out from the Diyatalawa Military Academy in Sri Lanka.
We would definitely need the support of Sri Lanka to reform the military.
When we didn't have teachers, Sri Lanka gave us teachers. When we didn't have doctors you gave us doctors.
In the case of soldiers I think it would be the same.
Q: However, there is an allegation that you were protecting some corrupt people and you ordered to arrest Chief Justice Abdulla Mohamed who acted against your orders. Could this situation, which threatened the independence of the judiciary. trigger the unrest in the Maldives?
A: I don't claim to be an angel.
But I don't think that a coup is the answer for any wrong doing.
There are institutions and mechanisms and I believe what people should do is to go through these mechanisms to get justice. Of course the Maldives has a number of challenges coming out with the first multi-party election and consolidating democracy. Courruption was an intermediate issue and these issues have to be dealt with.
I don't believe that our government was corrupt.
It was the most transparent government that has been established in the Maldives.
I believe that violence is not the answer for it. We should never condone it, justify or tolerate it.
Arresting the judge I was told in many instances was popular than free medicare that we started in 2012. There was no discontent among the people over this issue but there was discontent among Gayoom's faction as he was protecting them.
Q: It was reported that soon after they had overthrown your government, there was an attack on ancient Buddhist statues whom do you suspect to be involved in?
A: This was disturbing. It happened with a lot of radical Islamic influence.
They are making in roads in the Maldives for the last 20 years.
They formed the backbone of the coup. A minute after they thought they won it, they entered the museum and smashed all the Buddhist statues.
This was a reminiscent of destroying Buddha statues in Afghanistan.
We have a heritage of such a close affinity with the people of Sri Lanka. we are the only Sinhalese in the world who profess Islam and we should never leave room for radical islamists to do such acts.
Q: How do you think India can play a role in the Maldives?
A: The Indian government's leverage in neighbouring countries must be on a level playing field where they can intervene or assist neighbouring countries, but unfortunately it didn't happen this time when the Maldives was in trouble.
They don't seem to have this leverage with the present government and urge them to go for an early election or agree to an early election.
I think that is disturbing. We always respect the Indian leadership.
Q: What is your intention in talking to the media in Sri Lanka?
A: The situation in the Maldives is pathetic. We also want to see a thorough investigation with international participation on the transfer of power on February 7.
We are eagerly waiting to see democracy back in the Maldives.
We have been speaking to the diplomatic community and the government here. While my country is in turmoil after the coup organised by the Security Forces and some in the business community, which had overthrown the elected government.
I thought of enlightening your readers about the true situation in the Maldives and convey to Sri Lankans the real situation there and since then how the Maldivians have been out in streets and demonstrating against police brutality and calling for fresh elections.
The cordial and friendly relations with the people of Sri Lanka and its government made me to visit Sri Lanka as soon as I was able to travel.
Q: How safe is Male now for you?
A: I am very fortunate as they are always with me and they want to defend me. I think the government also understands that there would be repercussions and there will be unrest on the streets of Male if they harm me or arrest me or violently deal with me.
I don't say Male is safe for me considering the present situation but I feel I can go on.
What I explained about the Maldivian situation is the reality.
I don't try to spin anything and I don't have the habit of lying.
For the last 20 years they tried to charge me on various allegations and I have always been able to come out of them, face them, stand for elections and win it. I will continue to do so.
Q: If there is an early election, with whom do you intend to contest against?
A: He is Gayoom.
Q: After thirty year of rule, What are the major changes that you brought to the Maldives?
A: My government has made a series of significant changes in the economy as well as the lives of the people. We made the taxation system afresh, so government revenue has doubled. We implemented social protection program that looks after single mothers, a free health insurance scheme, a well-connected transport system covering the entire country, a program to deal with young drug users and unemployment.
I am happy to say that we have do to our maximum, but there is a lot to deliver. It is obvious the Maldivians are satisfied with the changes that we brought in.
Q: What are the areas that you could not introduce changes?
A: I think it is mainly the judiciary, Police and the Military we could not change. They need to be reformed.
Q: How do you see the support of President Mahinda Rajapaksa personally and diplomatically soon after you were ousted?
A: He has always been friendly and helpful. He always assisted the Maldives. I am sure he will continue to help us.
Q: How do you see the Maldivian government supporting Sri Lanka at the recent UNHRC sessions?
A: We are in the UNHRC. The Maldives always supports Sri Lanka and we will continue to support Sri Lanka. This is our policy.
(For updates you can share with your friends, follow TNN on Facebook and Twitter )