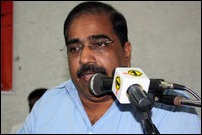 It was a last resort for the democratic political struggle of Thanthai Chelva to call for the independence of Tamil Eelam in 1976, after a series of political deceits and finally his 6-point demand following the 1972 constitution to resolve the Tamil question within a united Sri Lanka was also rejected, said Tamil National Alliance (TNA) parliamentarian Suresh Premachandran, while speaking at the 114th birth anniversary of SJV Chelvanayakam in Jaffna on Saturday. But after Tamils paying a heavy price in the armed struggle only the world has now started looking at the issue, which has now become international. TNA has the mandate and responsibility at a crucial time and it should not make even a small slip. Petty offices of position are not the answer to the price paid by our people. We are conscious of the mandate given to us by our people, he further said.
Political observers in the island told TamilNet on Sunday that Premachandran's address was directed at those who claim main role in TNA politics with policies that were abandoned even by Thanthai Chelva and also not caring the new dimensions that have come through the armed struggle.
Suresh Premachandran's address should also be seen in the light of the reported invitation extended to Mr. Sampanthan to visit US to meet the Secretary of State Hillary Clinton, political observers further said.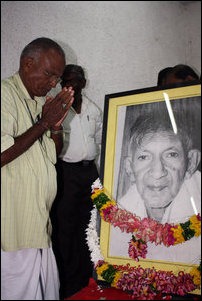 Last year's Chelva anniversary address of the TNA was made at Colombo by its nominated parliamentarian Mr. MA Sumanthiran.
This year, Chelvanayakam birth anniversary events were held in Jaffna, Ki'linochchi and in the East.
Besides Mr Suresh Premachandran TNA parliamentarian as well as leader of the EPRLF, the event in Jaffna on Saturday was addressed by TNA parliamentarian Maavai Senathirajah and Prof SK Sitrampalam of the ITAK, V. Anandasangaree of the TULF, K. Sivajilingam of the TELO, Tharmalingam Sitharthan of the PLOTE and by former parliamentarian Mr Solomon Cyril.
In the 30 years of war, Tamils have lost the lives of nearly 300,000 people and around 40,000 combatants. In the Vanni war alone 147,000 people went unaccounted, Premachandran said, pointed out that solutions should do justice to the loses.
Even after all what had happened larger forces harp on federal solutions. Tamils should have self-rule for their freedom. Unless Tamils regain their sovereignty that was not given to them back by the British, they could never have self-respect, equality and peace, was the reality that impelled Thanthai Chelva to call for Tamil Eelam through democratic means, Premachandran further said in his address.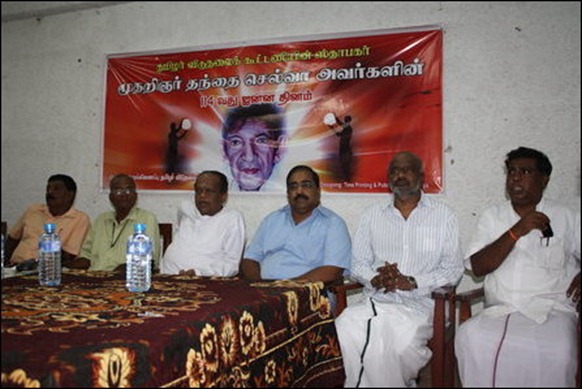 (For updates you can share with your friends, follow TNN on Facebook and Twitter )