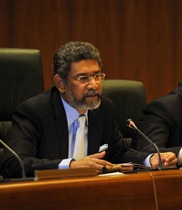 Sri Lanka's Ambassador to Paris Dayan Jayatilleka has confirmed that there is a threat to charge him under the penal code over some allegations leveled against him.
Ambassador Jayatilleka said the move seemed to take place in the context of a debate on post-Geneva policy perspectives in Sri Lanka.
It was reported that the External ministry's overseas administration division Acting Director General Mr. W.G.S.Prasanna has sent a lengthy five page letter to Dr.Jayatilleka outlining certain charges relating to alleged "wrongdoing " by Dr.Jayatilleka in the conduct of the affairs of the Embassy in Paris.
The letter calls for an explanation by the envoy regarding the charges and also asks the ambassador to show cause as to why he should not be charged under the Country's penal code.
"This seems to take place against the backdrop and in the context of a debate on post-Geneva policy perspectives in Sri Lanka, between three schools of thought: (a) those collaborationists and appeasers who wish to cave in to the US, (b) those neo-conservatives who wish to resist the US resolution by stalling or rolling back local reforms and whipping up xenophobia, and (c) those reform-minded Realists like myself who have consistently urged resistance to external hegemonism and the safeguarding of our national sovereignty against intervention precisely by implementing our own reform programme rapidly," Ambassador Jayatilleka said.
The letter sent to Ambassador Jayatilleka is seen as a preliminary strike aimed at paving the way for his removal from Paris and constitutes part of an overall conspiracy targeting Professor G.L Peiris.
Among the charges in the letter is one which queries the ambassador about re-painting and whitewashing the Embassy and Ambassadorial residence buildings prior to the visit of External affairs minister Prof GL Peiris.
(For updates you can share with your friends, follow TNN on Facebook and Twitter )