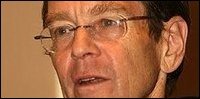 Bruce Fein, the attorney for the three Tamil plaintiffs who filed war-crimes charges against Sri Lanka's President Rajapakse, said Sunday that as instructed by his clients he has filed an appeal against the ruling by the District Court of District of Columbia. District Judge Colleen Kollar-Kotelly said in the Court opinion that she had to dismiss the case because the Obama administration had intervened to say Rajapakse was immune from litigation as a foreign head of state. "We intend to ask for an initial en banc hearing by the entire U.S. Court of Appeals in lieu of a three-judge panel," Fein said, adding, "the Supreme Court's recent ruling in Zivotofsky v. Clinton strengthens our appeal immeasurably. There the Court held that the Executive Branch's foreign policy prerogatives cannot dictate to federal courts the outcome of cases that rest on statutory rights created by Congress."
PDF: Case Appeal Notice
"We will also be seeking amicus curiae briefs from Members of Congress in both the Court of Appeals and the Supreme Court if necessary," Fein said.
On the decision by Judge Kotelly to dismiss the case, Fein has earlier stated:
The District Court's ruling verges on the obtuse and is exceptionally vulnerable to reversal by the United States Court of Appeals for the District of Columbia Circuit. The ruling relies on irrelevant precedents, and invents of canon of statutory construction that Congress is presumed to enact meaningless statutes that leave international common law undisturbed unless it explicitly declares the statute is intended to be law, not mere wallpaper. The case has attracted widespread national and international media attention, which is invaluable publicity shining the spotlight on GOSL atrocities. I believe the constitutional issue raised by the litigation against President Rajapaksa is a good candidate for ultimate review in the United States Supreme Court.
Fein pointed out that his main argument on-behalf of the plaintiffs was based on the statutory rights created by the Congress.
Another issue dealing with the intervention of the Executive on the Courts independent power to conduct judicial review was debated by the Supreme Court on 26th March 2012.
In Zivotofsky, Congress enacted a statute providing that Americans born in Jerusalem may elect to have "Israel" listed as the place of birth on their passports. The State Department declined to follow that law, citing its longstanding policy of not taking a position on the political status of Jerusalem.
The Supreme Court disagreed, saying, "the courts are fully capable of determining whether this statute may be given effect, or instead must be struck down in light of authority conferred on the Executive by the Constitution.
(For updates you can share with your friends, follow TNN on Facebook and Twitter )