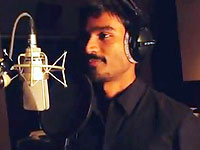 A Public Interest Litigation has been filed in the Kerala High Court against 'Why this kolaveri di…', the super hit number from Dhanush starrer '3', alleging that the song is corrupting the minds of youngsters.
According to the petitioner M Madaswamy, a postal assistant working at Peermede in Idukki, the song should be prohibited as it was "badly influencing minds of young children".
"A song with such violent lyrics increases aggression related thoughts and emotions and this effect is directly related to the violence in the lyrics as per a new study published by the America Psychological Association", he said.
Madaswamy said in his petition that in a series of five experiments involving over 500 college students, researchers from Iowa state University and the Texas Department of Human Sciences examined the effects of seven violent songs and eight non-violent songs.
Results showed that violent songs led to more aggressive interpretations of ambiguously aggressive words. The violent songs increased feelings of hostility without provocation or threat, he added.
(For updates you can share with your friends, follow TNN on Facebook and Twitter )