28 nations issue tsunami warnings after massive earthquake hits the same spot as the 2004 tragedy
5.35 pm: IAF relief teams leave for Andmans for possible emergency
5.32 pm: India's Home Secretary says there is no cause for panic along the eastern coastline. However, Nicobar Islands have been put on alert.
5.30 pm: Navy, Coast Guard on alert as minor tsunami waves lash beaches in Andamans.
5.20 pm: The Andaman administration has evacuated some people of Southern Andaman as a precautionary measure, reports PTI.
5.09 pm: Pacific Tsunami Warning Center issues fresh tsunami alert for the Indian Ocean region.
5.05 pm: 3rd aftershock, measuring 8.0, hits Indonesia.
5.00 pm: An aftershock measuring 8.1 on the Richter Scale hits Indonesia.
4.51 pm: The Chennai Port has been shut following the tsunami alert.
4.48 pm: Sea water at Simuelue Island in Indonesia seen to be receding by 10 metres.
4.27 pm: Anchored ships in Andamans asked to move to high seas, television reports say. Meanwhile, fresh tremors recorded in Langkawi, Malaysia.
4.18 pm: Indian envoy to Thailand Anil Wadhawa has been quoted as saying Phuket airport has been shut as a precautionary measure.
4.16 pm: TV reports quoting the US Geological Survey are saying that the likelihood of a tsunami following the Indonesia quake is low, since the waves seem to have travelled horizontally.
4.14 pm:
Sri Lanka Met Dept issues tsunami alert, asks people in coastal areas to move inland.
4.10 pm: BBC says circling the Pacific Basin, on the bottom of the sea bed, lie a dramatic series of volcanic arcs and oceanic trenches. The zone – known as the "Ring of Fire" – is notorious for frequent earthquakes and volcanic eruptions, and coincides with the edges of one of the world's main tectonic plates. More than half of the world's active volcanoes above sea level are part of the ring.
4.08 pm: Indonesia says there are no signs of a low tide that typically precedes a tsunami.
4.05 pm:Another development: News agency PTI quotes National Disaster Management Agency vice president Sasidhra Reddy as saying: So far no waves noticed in Andaman and Nicobar Islands; tsunami virtually ruled out.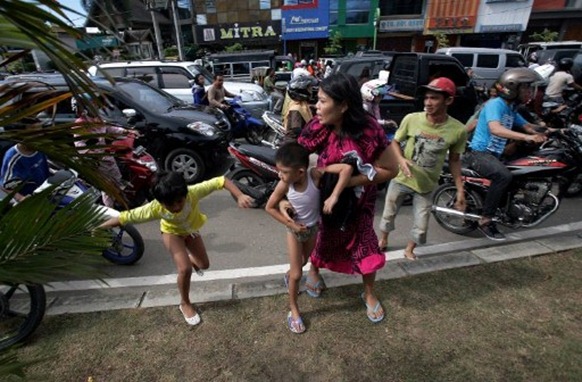 Acehnese people run shortly after a powerful earthquake hit western coast of Sumatera in Banda Aceh on April 11, 2012. A massive earthquake struck off Indonesia's Sumatra island, US and Indonesian monitors reported, prompting an Indian Ocean-wide tsunami alert.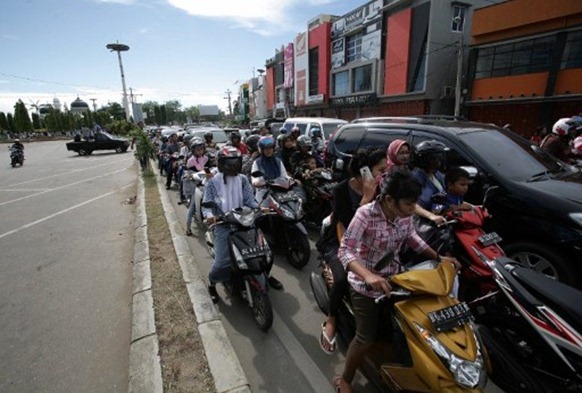 Acehnese people try to go to higher ground after a powerful earthquake hit the western coast of Sumatera in Banda Aceh on April 11, 2012.
(For updates you can share with your friends, follow TNN on Facebook and Twitter )