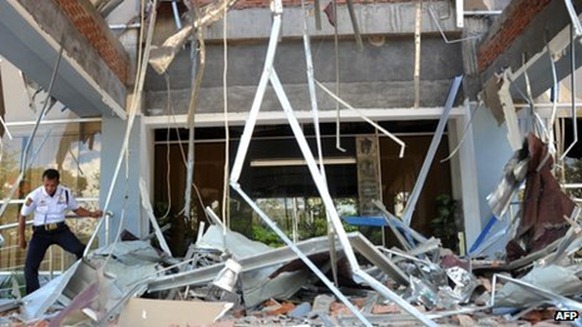 Two big earthquakes that struck off the Indonesian province of Aceh on Wednesday caused the deaths of five people – three from heart attacks and two from shock, disaster officials say.
They have expressed relief over the low casualty figures; 70,000 people died in the 2004 tsunami in Aceh.
However the chaos caused by the 8.6 and 8.3 magnitude quakes enabled about 49 inmates to escape from prison.
Scientists meanwhile have been explaining why there was no tsunami.
They say the main difference was that in 2004, one tectonic plate slipped beneath another, displacing a huge volume of water.
Wednesday's quakes in contrast resulted from the plates rubbing laterally against each other – their movements although violent were less likely to create huge waves.
"In this case the movement in the earthquakes was horizontal – and horizontal movements do not create bulges on the surface of the ocean which generate tsunamis," geophysics Professor John McCloskey told the BBC.
"Very quickly after the quakes were recorded we were able to say that it was unlikely there would be a tsunami."
Experts say that the authorities in Indonesia and in other countries were not wrong to evacuate people – because the seismological information available at the time suggested there could have been a big tsunami.
Regularly hit
Separately, officials say that prisoners in an Aceh jail took advantage of the confusion following the quakes and tsunami warning to escape.
Geophysics Prof John McCloskey explains why the earthquake impact was minimal
They say that while most offenders in the 200-inmate jail came back to the prison soon after the tsunami warning, 49 remain on the run and are being pursued by police.
Communities in Aceh on Thursday are now resuming their normal lives, officials say. They have expressed relief that only of a handful of people were injured, including a severely hurt child who fell out of a tree.
Indonesia, like India, Thailand and Sri Lanka, has lifted its tsunami warning.
The region is regularly hit by earthquakes. The Indian Ocean tsunami of 2004 killed some 250,000 people around the region.
The US Geological Survey (USGS), which documents quakes worldwide, said the first Aceh quake was centred at a depth of 33km (20 miles), about 495km from Banda Aceh, the provincial capital.
It was initially reported as 8.9 magnitude but was later revised down to 8.6 by the USGS.
A few hours later, another warning was issued after a major aftershock measuring 8.2 struck 16km (10 miles) beneath the ocean floor and 615km from Banda Aceh.
The quakes and tsunami alert led to electricity being cut in Aceh and traffic jams as people queued to gain access to higher ground.
Tremors were felt as far away as Singapore, Thailand, Sri Lanka, Malaysia, Bangladesh and India.
(For updates you can share with your friends, follow TNN on Facebook and Twitter )