The leader of a Sri Lankan opposition party has accused the country's security forces of kidnapping him and subjecting him to 'sexual torture.'
Premakumar Gunaratnam, a founder of the Frontline Socialist Party, said he was kidnapped along with a party colleague by members of Sri Lanka's security forces who raided his home in Colombo in the early hours of April 7.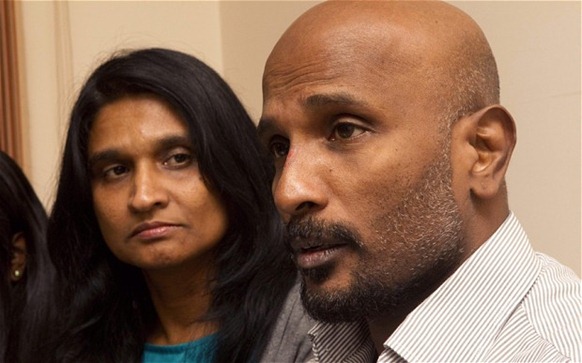 Premakumar Gunaratnam and his wife Champa Somartana Photo: EPA
"I was abducted by the Sri Lankan government forces, blindfolded and tortured. This includes, I am embarrassed to say, sexual torture," he said after he was released and deported to Australia, where he holds dual nationality.
He said he believes he would have been killed had Australia not asked the Sri Lankan government of his whereabouts.
Human rights groups and senior opposition leaders said their disappearance highlighted an upsurge in kidnappings of dissident figures after a lull following the end of the country's long civil war.
Mangala Samaraweera, spokesman for the United National Party and a former foreign minister, said he believed the government was behind the spate of kidnappings, which he said were now being used to suppress any opposition or dissent.
Before the end of the civil war in May 2009, there was a series of 'White Van' kidnappings and assassinations of government critics and opponents linked to the Liberation Tigers of Tamil Elaam (LTTE), including the murder of newspaper editor Lasantha Wickramatunga, who was shot dead by motorcycle gunmen.
But since October last year there have been 30 new 'White Van' disappearances, including several dissident figures within the government, said Mr Samaraweera.
"There has been an upsurge in White Van abductions since last October. Even the United States State Department has inquired of the government the status of its inquiries into these abductions. Before they were launched against LTTE suspects, but now they are using these tactics against dissidents within the government," he said.
He said a brother in law of a cabinet minister and the pro-government leader of a local government authority were among those kidnapped recently.
Meenakshi Ganguly of Human Rights Watch said the Sri Lankan government had encouraged a culture of impunity by failing to investigate kidnappings or bring those responsible to justice. "It has been going on for years and the government has never taken it seriously,' she said.
(For updates you can share with your friends, follow TNN on Facebook and Twitter )