The sexual abuse case against Ven. Pahalagama Somaratana, chief monk of Selsdon Buddhist Temple in London, continued proceedings at Isleworth Crown Court on Wednesday.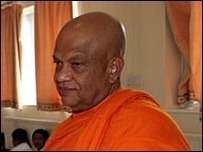 Key prosecution witnesses took to the stand to tell their account of what had allegedly occurred during the late 1970's.
One witness described how she was only aged between 9 and 10 when the abuse started.
After Sunday classes
Court heard that a majority of the alleged rape and indecent assaults occurred primarily after the Temple's Sunday school. The accused would routinely visit classes where approximately 20 children, aged between 4 to 16, attended each week.
Witness described to the court that she remembered 'being alone' in Ven Somaratana's room on the pretence of discussing upcoming temple services. Describing the placing of furniture in detail, the witness stated that it was "no bigger than a box room".
Memories of abuse
The crown court was told of incidents of abuse when the witness was taken to the bedroom alone with Ven. Somaratana. She told the court that she has memories of "sitting on his lap".
Court had to recess briefly to give the witness to compose herself. Later the witness continued on describing the alleged sexual abuse that she was subjected to during the course of 2 to 3 years.
"If I realised it was wrong at the time then I would have said something then," said the alleged victim.
35 years later
When questioned why the witness had only come forward approximately 35 years following the alleged assault, she stated that at the time she thought that the monk's actions were an accident.
"At the time as a child, I thought it was all an accident. Looking back on it now as an adult, I know that this was not the case."
Monk is charged with repeatedly sexually abusing the witness for 2 to 3 years.
Proceedings that started on Monday at Isleworth Crown Court continues.
(For updates you can share with your friends, follow TNN on Facebook and Twitter )