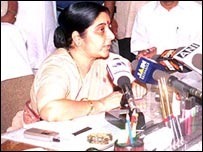 Leader of Opposition, Lok Sabha, India and Leader of All-Party Parliamentary Delegation to Sri Lanka Sushma Swaraj told media that she called upon President Mahinda Rajapaksa to break the deadlock in talks with Tamil parties when the Indian Parliamentary delegation met him on Saturday.
She said that the delegation has urged the Government of Sri Lanka and other stakeholders to resume dialogue and move towards an early political settlement.
Sushma Swaraj said that Sri Lanka is very serious about a political solution to the national question.
She urged Tamil National Alliance(TNA) to consider joining the Parliamentary Select Committee and begin talks with the Sri Lanka government.
Sushma Swaraj said that the President Mahinda Rajapaksa told her that the government is not in a position to bring the parties into Parliamentary Select Committee by force.
Substantial progress
She said that during their visit they were able to witness a substantial progress in rehabilitation and reconstruction. However, she urged the Sri Lankan government to resettle the remaining IDPs in former war zone.
She said during her talks with the President Mahinda Rajapaksa she raised the issues of lands, demilitarization and high security zones in the north.
"I told President Mahinda Rajapaksa that Army is interfering in civil matters and it should be stopped", she said.
(For updates you can share with your friends, follow TNN on Facebook and Twitter )