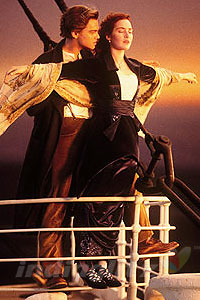 The re-release of 'Titanic' in 3D is still seeing a strong run in theatres across the country despite IPL and competition from several Indian releases. The James Cameron venture has raked in an impressive 18 crore rupees in the Indian box office alone, making it the biggest Hollywood film of the year in India!
This marks a huge achievement as it's not only a re-release of a film every movie goer is familiar with, but has also given good competition to the other films in India. The previous time 'Titanic' grossed Rs 55 crore in India.
Combining its 1997 and 2012 collections, the total box office collections for Titanic in India stand at 73 crores, and it is now the third biggest Hollywood film in India after Avatar (142 crores) and 2012 (90 crores). Worldwide, 'Titanic 3D' has already grossed $2.1 billion, making it the second biggest movie of all time, behind 'Avatar' ($2.8 billion).
'Titanic 3D' is a commemoration of the 100th anniversary of the sailing of the Titanic, and pays a special tribute to the tragedy that took place in 1912.
(For updates you can share with your friends, follow TNN on Facebook and Twitter )