Solomon Arulanandam David (S.A. David), popularly known as Gandhiyam David, who presided the Gandhian movement which spread simple agriculture, self-sustenance, and importance to early education as a way of life in the deprived villages of Tamil Eelam for nearly a decade from 1972, reaches 88-years Tuesday as he spends his older years among his friends in Chennai. TamilNet extends its wishes to Mr David as it recognizes his unique and selfless contribution to Northeast Tamils and the hill-country Tamils displaced by Sinhala intimidation, riots and pogroms in the 1970s and 80s. David was assisted by another humanist of the 70s, the late Dr Rajasundaram. Rajasundaram was killed in the Welikade prison massacre in 1983, whereas his friend, David, escaped, re-incarcerated in Batticaloa jail to escape again in the famous Batticaloa jail break.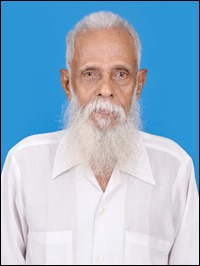 David's contribution in the history of the struggle of Eezham Tamils is that at the inception of the armed struggle he had conceived the importance of a grassroot civil movement to accompany it.
Threatened by the popularity of the spreading Tamil cultural consolidation and self-reliance in the most underdeveloped areas of the Northeast, and the opportunities presented to fleeing hill-country Tamils to begin life anew in the Northeast, Colombo framed charges against Mr David and Dr Rajasundaram under the Prevention of Terrorism Act (PTA) and jailed both, according to reports.
Dr Rajasunderam was killed in the Welikade Prison massacre of June 1983. Mr David escaped Welikade massacre, but was later taken to Batticaloa prison. Tamil prisoners decided to break out of the prison, and in the successful jail break, twenty prisoners escaped first, and Mr David was taken by a supporter through the jungles to Poonakari from where he found his way to Rameswaram by boat.
David has been living in exile in Anna Nagar in Chennai. He has been critical of how the Tamil refugees, who fled violence and repression in Sri Lanka, are being treated in India being denied of freedom of movement and right to citizenship.
Talking to TamilNet from his Anna Nagar Residence, Mr David said, "I appeal to the expatriate Tamils to continue the struggle in the Gandhian way to impose the moral responsibility on the leading Governments of the West to facilitate the birth of Tamil Eelam. There is no question in my mind that Tamils have the right to live freely in their own homeland.
"Studying Thirukkural is a must for the future generations of Eezham Tamils," Mr David said, reflecting his solid grounding on the Gandian principles that motivated his work with the Tamil people in Vanni in the 1970s.
Mr. David added, "I salute Professor Francis Boyle's contributions to our struggle, and when the time is appropriate I am certain that he will help our people to fight the legal battle in the International Court of Justice (ICJ), and in the International Criminal Court (ICC), if the Security Council accepts to take our case."
Excerpts from Mr David's biography follows:
In 1972, I came back to Sri Lanka to devote myself heart and soul to alleviate the suffering of my people, the Tamils. After intense study by reading and personal observation of many systems around the world in Europe, America, Israel, Africa and Far East I chose the Gandhian model as most suited to the genius and traditions of the soul of my people and proceeded to systematically to bring my people to the Gandhian way of life.

Together with Dr. Rajasunderam of Vavuniya, a tireless energetic worker, in five years we had built up a sound network of District Centers throughout the traditional homelands of the Tamils in the island of Sri Lanka, in Jaffna, Kilinochchi, Mannar, Mullaitivu, Vavuniya, Trincomalee and Batticaloa. At the time of our arrest, 450 pre schools with an average of thirty students each were providing daily milk and triposha and Kindergarten teaching facilities to village children.

Twelve model one-acre farms in Vavuniya, Trincomalee and Batticaloa were showing the villagers the simplest safest and quickest way to economic social and cultural revival. Mobile clinics equipped with basic preventive and curative medicine were making regular rounds to outlying villages. A training center was preparing thirty to forty young women, every three months for Gandhiam work in their own villages. In addition, Gandhiam with other social service organizations was assisting 5000 refugee families from Tea Estates to settle down to safe life among the traditional Tamil villages.

The quality and quantity of Gandhiam work impressed Foreign Aid Organizations and Tamils living overseas so much that we were receiving and operating on an yearly budget of Rs. 5,000,000/-.

All the time we were aware that the Sinhala Government was keeping its watchful eye over us. In April 1983 the Government took the decisive step to arrest me and Dr. Rajasundaram.

The charges on which we were arrested as told in the indictment given to us on 22 July 1983, three and a half months after the arrest and solitary confinement, torture of body and mind were:

Meeting Uma Maheswaran and not informing the police

Meeting Santhathiar and not informing the police

Assisting Uma and Santhathiar to escape to India

We could be sentenced to fifteen to twenty years of imprisonment on these charges.

I have experienced partial freedom and enjoyed it. I wanted total freedom for myself and my people. Instead, I was caught up in total bondage. It was hell. Now I realize total freedom would be heaven indeed.
The following is a response from Professor Francis A. Boyle, the author of The Tamil Genocide by Sri Lanka, to Mr S.A. David:
Thank you very much for your kind and gracious tribute to me. It is most greatly appreciated coming from someone who has worked so hard and suffered so much for the Tamils in Sri Lanka. I do look forward to meeting with you personally the next time I lecture in Chennai. And I hope you have a wonderful 88th Birthday Celebration. STOLAT!

Professor Francis A. Boyle
Exiled in Chennai, Mr David has been following the progress of, and writing about, the struggles of the Tamil refugees in different countries.
"Yearning for the homeland," a book on S. A. David in Tamil by Nanjil Natarasan is expected to be released at an event on the 29th in Anna Nagar felicitating Mr David's 88th birthday. The book is available with Kaanthalakam, Sasirekha, Chennai ([email protected]).
Mr Maravanpulavu K. Sachithananthan, continuing in his activities for the Tamil cause, was associated with Mr David during the Gandhiam period. He currently provides moral support to Mr David.
Mr David's last wish, his friend Sachithananthan said, is that his body is buried in the Vanni area when Tamil Eelam becomes a reality.
(For updates you can share with your friends, follow TNN on Facebook and Twitter )