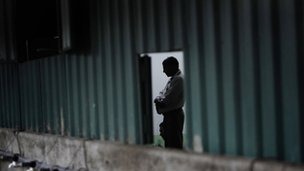 A strike is in force across Muslim areas of eastern Sri Lanka, following threats against a mosque in the central town of Dambulla.
Many public services have shut down, although Muslim-led demonstrations have been halted by the military.
The prime minister ordered the mosque's relocation on Sunday, following an attack on the mosque on Friday by hardline Buddhists, including monks.
Many Buddhists regard Dambulla as a sacred Buddhist area.
Sectarian tensions have been growing over this incident.
The strike is being observed in Muslim-dominated parts of the Ampara and Batticaloa districts.
In the town of Kalmunai, with a population of more than 20,000, schools, government offices, buses and the public market were all shut after a decree from the main mosque, the BBC was told by one resident.
The Mosque Federation office in another town, Kattankudi, has been damaged in an apparent arson attack, although it is not clear who is responsible.
'Chauvinistic'
The strike comes after days of tension, which began with the fire-bomb attack on the mosque on Friday.
Around 2,000 Buddhists attempted to storm the mosque later that day, saying that the mosque was illegally built and demanding its demolition.
Some Buddhists have also demanded the removal of a Hindu temple in the area.
The leading Muslim religious leaders' group, the All Ceylon Jamiyathul Ulama, has warned against violence by strikers and says Muslims should fast instead.
It says that most of the Buddhist majority in the country are peace-loving and fair-minded, and that it is vital not to hurt their feelings or insult other faiths.
Muslims make up less than 10% of the population and have generally good relations with the Sinhalese Buddhist majority, says the BBC's Charles Haviland in Colombo.
(For updates you can share with your friends, follow TNN on Facebook and Twitter )