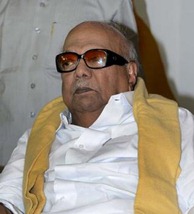 The first meeting of the revived Tamil Eelam Supporters Organisation (TESO), an outfit launched by Dravid Munnetra Kazhagam president M. Karunanidhi in 1985 to express solidarity with the Sri Lankan Tamil cause, will be held on April 30 at Anna Arivalayam, the DMK headquarters.
Mr. Karunanidhi, who is also the TESO president, will chair the meeting, which will be attended by DMK general secretary K. Anbazhagan, Dravidar Kazhagam president K. Veeramani, former minister Subbulakshmi Jagadeesan and Tamilar Peravai leader Suba Veerapanidan, who have been included as members.
Mr. Karunanidhi, who has been advocating a separate Eelam vociferously in the last few days, in a statement, called for a peaceful struggle in the footsteps of Mahatma Gandhi, C.N. Annadurai and Sri Lankan Tamil leader SJV Chelvanayagam, to set right the temporary setback to the cause of Tamils in Sri Lanka.
Reacting to criticism that the DMK failed to take any sincere efforts to prevent the killing of thousands of Tamils in the last phase of the war and was belatedly expressing concern, Mr. Karunanidhi said the Sri Lankan Tamil groups failed to succeed in their objective because they were not united in their struggle.
"The fratricidal war among the militant groups led to such a situation. Though we made a fervent plea to them to stop the fighting among themselves neither were we able to root out their mutual animosity nor stop the consequent downfall. Who can avoid shedding tears over the internecine fight between the leaders of various groups and their deaths?"
He said that the DMK government made all possible efforts to prevail upon the Centre to intervene and stop the war in Sri Lanka and the Centre extended its cooperation. All DMK MPs in both the Houses of Parliament offered to resign to pressure the government to intervene in the war and this led to Prime Minister Manmohan Singh giving an assurance to find a political solution.
Recalling various protests organised by the DMK and a delegation of Tamil leaders being sent to Delhi to meet Congress president Sonia Gandhi seeking India's intervention, Mr. Karunanidhi said he undertook a fast demanding a ceasefire by the Sri Lankan government.
"The same day Sri Lankan government issued a statement saying the war was over in the North and advised the Army not to use heavy weapons or shelling from the air. It also said priority would be given to evacuation of innocent people."
(For updates you can share with your friends, follow TNN on Facebook and Twitter )