Is it something in the water? Or is the gravy spiked? Every time the Indians come here–and chow down on presidential grub–they lose their ability to understand the words that leave Mahinda Rajapaksa's mouth. 
First, External Affairs Minister S.M. Krishna got his knickers in a twist about the 13th Amendment. Weeks later, Opposition Leader Sushma Swaraj followed suit. After separate visits to this country–and subsequent to intensive discussions with President Rajapaksa and others–they returned home convinced that he had pledged to implement the 13th Amendment!
That's just plain silly. The president hasn't even promised this to the locals. The JHU would have brought forth kittens had he done so (and nothing is as important to this government as keeping the JHU and Mervyn Silva happy). So why would he say such a thing to the Indians? Any patriotic, right-minded Sri Lankan will swear that President Rajapaksa despises doublespeak. He never engages in it, not even under dire circumstances. He is as straight as an arrow. The Indians, therefore, must've have misheard him.  
Our rulers know best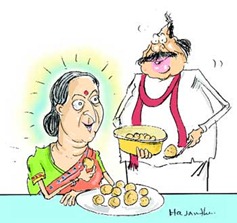 Krishna started it off. Five short months ago, the president hosted him to breakfast in Colombo. They very cordially discussed many things. He then ended his Sri Lankan trip by participating at a joint press conference with his Sri Lankan counterpart, G.L. Peiris.  He reiterated India's support to the 13th Amendment as a means to achieving a "meaningful" devolution of powers. Importantly, Krishna also said President Rajapaksa had assured him that he stands committed to pursuing the "13th Amendment plus approach."
Now, God only knows what the "13th Amendment plus approach" is. Unfortunately, God is yet to volunteer that information, so Sri Lankans remain clueless. Not that it bothers the locals overmuch. We increasingly operate on the principle that our rulers know best, if only because they won a war. We are so well governed today that we can set about our daily business with our ears, eyes and mouths closed. And, bless us, we do.
So Krishna said his piece while Peiris stared glassy-eyed into the horizon, possibly fantasizing about a golden era when Sri Lankan foreign ministers would once again have more than a fleeting relevance. A few days later, President Rajapaksa tells editors at a breakfast meeting that he didn't promise the Indians any such thing. (See, what did we tell you?). There was no official statement clarifying the government's position. But when newspapers published the remarks, nobody from the President's office rebutted them.
Weeks afterwards, Swaraj arrives in Sri Lanka with a hefty delegation of Indian politicians. They complete a few tours, take part in various discussions and sit down to breakfast with the president on the last day of their visit. At their closing press conference, a journalist reminds Swaraj that President Rajapaksa had denied Krishna's claim that he had agreed to implement 13th Amendment plus.  
Her reply, verbatim, was: "President himself spoke about 13th Amendment plus. So it's not a question of a minister saying or denying or confirming. The president himself said 13th Amendment plus." And off they flew. Two days later, President Rajapaksa denies her claim. (What did we tell you, what did we tell you?). Again, there is no official statement. But a newspaper with links to his office quoted sources as saying that "such an assurance was never given or asked for." 
This is quite bewildering. We presume senior Indian politicians such as these have reasonable powers of comprehension that allow them to grasp simple facts. If President Rajapaksa says, "Yes, I will implement the 13th Amendment fully and 13th Amendment plus"… they would get it. Similarly, if he says, "No, I will not implement the 13th Amendment fully nor 13th Amendment plus because you Indians forced it down our throats and nobody here wants it"… they would also get it.  So why do the Indians leave these meetings saying one thing and the Sri Lankans another?
Potent stuff
There is only one question to ask–what the devil do they get served at breakfast? It has to be something in the food or drink. To conclude otherwise would be to imply that the Indians are lying. Or, heaven forbid, that the Sri Lankans are!
This is potent stuff. They need to check out those egg hoppers and pancakes. The presidential kitchen and its staff must immediately be investigated. There must be a few foreign conspirators lurking amidst the pots and pans, plotting to destabilize India-Sri Lanka relations by surreptitiously lacing the food and drink with something. Ask Wimal Weerawansa. He will tell you that it's probably in the wheat flour imported from America. In the end, the trail always leads back to the damned Americans.
This government would never utter such barefaced untruths to another sovereign government, particularly one as powerful and as close as India is. The Indians wouldn't lie either. So it must have been a trivial misunderstanding. Unless, of course, the Indians and Sri Lankans are conspiring to make the rest of us look like fools. This is also a distinct possibility. 
(For updates you can share with your friends, follow TNN on Facebook and Twitter )