Reiterating that a Tamil Eelam alone will offer a permanent solution for the Sri Lankan Tamils, who have been subjected to the "biggest ethnic cleansing of the century," DMK leader and Tamil Eelam Supporters Organisation (TESO) president M. Karunanidhi on Monday said that the goal should be achieved only through non-violent methods.
Talking to reporters after the first meeting of the revived TESO, an organisation he founded in 1985, Mr. Karunanidhi said that even if the LTTE resurfaced to resume its struggle, the TESO would urge it to follow the path of non-violence. Asked if he had no faith in the armed struggle of the LTTE, Mr. Karunanidhi said, "Anyone committed to a cause and pursuing it with a pure heart and uncompromising fighting spirit will get our respect."
Asked if LTTE leader Prabhakaran was still alive, the DMK leader said, "There is no death for warriors."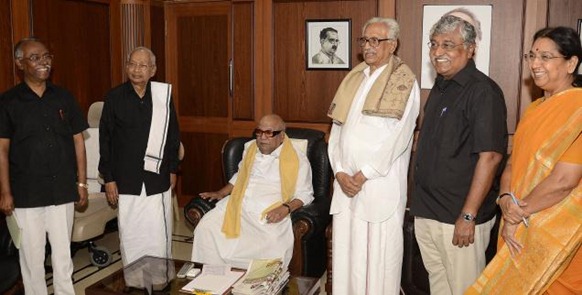 RESURRECTING A CAUSE: DMK president M. Karunanidhi with Dravida Kazhagam chief K. Veeramani, Dravida Tamil Peravai leader Suba Veerapandian and DMK leaders K. Anbazhagan and Subbulakshmi Jagadeesan in Chennai on Monday. Photo: K.V. SRINIVASAN
Mr. Karunanidhi said that the armed struggle launched by militant groups in the wake of the suppression of Tamils failed owing to various reasons and led to the downfall of Tamils as a race.
"As we are keen on arresting the fall further, we want to change the method of struggle and suggest democratic ways accepted by countries across the world. We seek the support of the Indian government for this democratic struggle." When his attention was drawn to the claim by CPI (M) leader T.K. Rangarajan, who was part of the Parliamentary team that recently toured Sri Lanka, that none of the Tamil leaders was interested in a separate Eelam, Mr. Karunanidhi said it was possible that the delegation would have met only people with such a viewpoint. "But there are a lot of them who have suffered and there is a need to get their opinion too."
Asked if the DMK would leave the Congress-led UPA if the Centre refused to support the TESO's demand, Mr. Karunanidhi said he was optimistic that the effort would succeed. "When many countries decided to support the resolution against Sri Lanka in the United Nations Human Rights Council (UNHRC), India took a belated decision. You should not forget the fact that the DMK's efforts led to India supporting the resolution." Earlier, a resolution adopted at the meeting demanded the United Nations intervene and hold a referendum among Tamils in Sri Lanka and the Tamil diaspora for the formation of a separate Eelam.
(For updates you can share with your friends, follow TNN on Facebook and Twitter )