Australia's immigration minister denied his government was sending asylum seekers back to dangerous situations in Sri Lanka, saying that the people that Canberra returns are not refugees who fled violence.
Australian Immigration Minister Chris Bowen was speaking at an event in New Delhi on Wednesday ahead of his planned trip to Sri Lanka, where he is expected to address issues that include the prevention of people smuggling.
His trip comes as human rights groups have called on Australia to address the issue of alleged torture and arbitrary detention of rejected asylum seekers who return to Sri Lanka.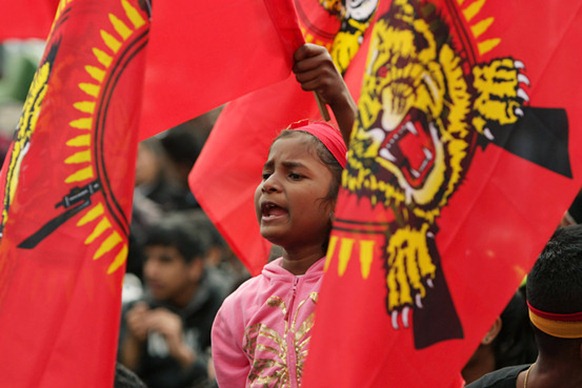 Sri Lanka is being pressurized to address alleged war crimes committed against its Tamil minority. Pictured, sympathizers of the Tamil Tigers protested against alleged human rights violations in London, April 7, 2009.
Sri Lanka has repeatedly denied accusations that its army has subjected the country's ethnic Tamil minority to abuses since the end of the nation's 26-year civil war in 2009, dismissing such allegations as propaganda.
Instead, Sri Lankan officials point at the government's efforts to spur development in its Tamil regions, which they say have experienced a 20% annual economic growth as a result.
The civil war between the ethnic Sinhalese-dominated army and separatist Liberation Tigers of Tamil Ealam ended in May 2009 in an orgy of violence by both sides. The U.S. in March sponsored a resolution at the United Nations pushing Sri Lanka to mount an independent probe into accusations that soldiers fired on Tamil civilian targets such as schools and hospitals in the closing months of the war, killing tens of thousands of people.
Human Rights groups say abuses continue in the Tamil-majority north and east of the country, where the army has retained a massive presence since the war's end.
In February, Human Rights Watch said that at least eight Tamils asylum seekers who were deported from the U.K. endured abuses ranging from rape to having their bodies burned with cigarettes during interrogations.
Human rights activists fear that efforts to combat people smuggling may make it harder for Tamil refugees to seek asylum. "Efforts to counter and prevent people-smuggling should seek to protect asylum seekers, and shouldn't interfere with their right to seek asylum," Phil Lynch, executive director at Human Rights Law Centre, an Australian advocacy group, said in a statement released ahead of Mr. Bowen's trip.
A year after the end of the civil war, Australia's Edmund Rice Centre, an advocacy group, urged Australia to suspend returns of asylum seekers to Sri Lanka. "On the ground in Sri Lanka, the attitude held by the authorities is that any Tamil who fled the country in an unauthorized way must be an LTTE sympathizer, or if they are Singhalese, then they must be a traitor," Phil Glendenning, the director of the center, said at the time.
He claimed his group found that "all asylum seekers returned to Sri Lanka" in previous months had been handed over to police and taken into custody. "Some have been assaulted," he said.
Mr. Bowen, speaking at an event organized by the Federation of Indian Chambers of Commerce and Industry, said his government has the necessary mechanisms in place to verify whether those who seek asylum in Australia qualify as refugees or are just illegal immigrants.
Under the United Nations' 1951 Refugee Convention, which Australia has signed, member countries cannot return a refugee "to the frontier of territories where his [or her] life or freedom would be threatened on account of his [or her] race, religion, nationality, membership of a political social group or political opinion."
Describing Australia's refugee program as "very generous," Mr. Bowen said his country feels strongly that there should be an orderly process to receive people as refugees.
He cited the dangerous waters asylum seekers often travel in by boat as necessitating further efforts against people smuggling.
A common port of entry for asylum seekers is Australia's Christmas Island, around which deadly shipwrecks are common.
"Australia takes many refugees and will continue to do so," he said, adding his government would like to increase their refugee intake towards 20,000 a year, which would likely make Australia the world's second-largest refugee receiving country in the world after the U.S.
(For updates you can share with your friends, follow TNN on Facebook and Twitter )