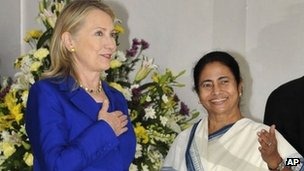 US Secretary of State Hillary Clinton's visit to Calcutta to meet the West Bengal Chief Minister Mamata Banerjee was not just one successful woman politician on Time magazine's Power List paying a courtesy call to another.
US secretaries of state are not known to waste time promoting sisterhood unless it serves American interests. In July 2011, Mrs Clinton paid a similar visit to J Jayalalithaa, the chief minister of Tamil Nadu.
In both instances, crucial foreign policy issues were on the agenda.
Ms Banerjee has claimed that Mrs Clinton did not raise the issue of water sharing between India and Bangladesh on the Teesta river or foreign direct investment (FDI) in multi-brand retail in their meeting.
However, the US secretary of state had made her views on the twin issues very clear in a televised public interview in Calcutta a day earlier.
She was not unaware that that the two initiatives of the Delhi government had been scuttled by West Bengal's chief minister. Ms Banerjee is also the head of the Trinamool Congress party, a key ally of Prime Minister Manmohan Singh's coalition.
Weak centre
With the Tamil Nadu chief minister last July, Mrs Clinton had also discussed a foreign policy issue – finding ways of putting pressure on Colombo for the rehabilitation of Sri Lankan Tamils displaced by the war against the Tamil Tigers.
The Americans seem to have recognised that certain foreign policy issues cannot be pushed with a weak central government in Delhi alone.
They can see that there are domestic political compulsions which affect Indian foreign policy and sometimes they may require massaging the egos of regional satraps to push it in the desired direction.
There are other instances of how foreign policy issues get shaped by the local agendas of certain states or regional political leaders.
The Tamil Nadu cabinet passed a resolution against restarting work on the Koodankulam nuclear power plant – stalled by anti-nuclear protesters – knowing full well that it would impact Indo-Russian relations.
Later, Chief Minister Jayalalithaa was persuaded to change her stance. The price she is believed to have extracted was to get India to vote against Sri Lanka at the UN Human Rights Commission on the Tamil rights issue.
Regional Tamil party DMK, a coalition partner of the central government, also pushed Delhi to vote with the US on the Sri Lanka resolution – although up to then India had always made a virtue of not voting on any country-specific UN resolution.
Up north, the Jammu and Kashmir state legislature of Indian-administered Kashmir occasionally discusses walking out of the Indus Water Treaty with Pakistan as some Kashmiris consider it an unfair treaty.
These are instances where the states have had to be brought on board on issues which impinge on India's relationship with foreign countries.
Up to a decade ago, these would have been seen strictly in the domain of the central government. After all, the Indian constitution places foreign affairs – defined as "all matters which bring the Union into relations with any foreign country" – in the Union List, meaning states can exercise no power over it.
That does not seem to be the case any longer.
'Ham-handed US'
One cannot draw an unequivocal conclusion that all foreign policy is being hobbled by the states as there is a large domain of foreign policy which continues to be pursued by the centre without any state opposition.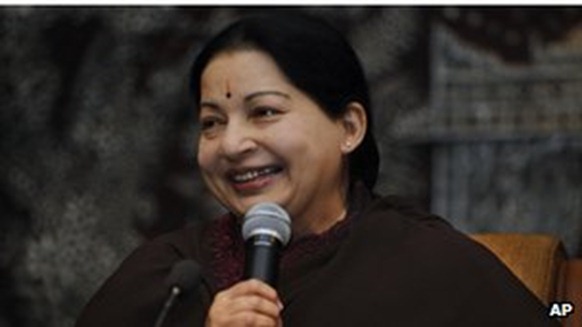 Tamil Nadu Chief Minister J Jayalalithaa – another strong regional player
However, it is equally true that when a foreign policy issue affects a state's interests, especially where it undermines the strong ideological positions of a regional party in power, the centre can no longer afford to ignore their views.
However, what happens when foreign powers start making tentative approaches to the regional leaders directly?
The Teesta water sharing treaty and FDI in multi-brand retail are not issues that specifically refer to US interests.
FDI in multi-brand retail is not solely an Indo-US issue – there are a number of European countries which are also waiting for the policy change.
If the head of Walmart or Carrefour were to meet officials from the Confederation of Indian Industry (CII) or the Federation of Indian Chambers of Commerce and Industry (FICCI) on the issue, nobody would object.
However, if the US secretary of state starts leveraging her weight to ram the door open for FDI in multi-brand retail, then even those who think it is a genuinely good idea will stop favouring it. Ham-handed US diplomacy in this case is likely to be counter-productive.
If Americans blatantly push their agenda on FDI in multi-brand retail with West Bengal, they also stand in danger of being seen as disregarding the constitutional distribution of powers between the centre and the states in India; and undermining the position of the Indian prime minister.
It is the prime minister's job to push the policies of his government and not that of the foreign minister of another country.
The inability of the centre to push its foreign policy or economic agendas reflects its incompetence in handling its allies and other regional parties.
(For updates you can share with your friends, follow TNN on Facebook and Twitter )