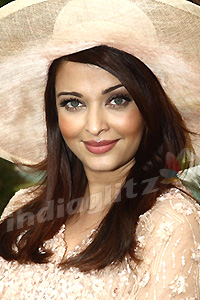 Like each year, Aishwarya Rai Bachchan is all excited to attend the L'Oreal Paris amfAR dinner at 65th Cannes Film Festival 2012. While the diva had always been the centre of attraction at the annual event, this time Aishwarya will be keenly waited upon since she has attained the new avatar as that of a mother.
Aishwarya, will represent L'Oreal Paris at Cannes on the 24th and 25th of May at the 65th Annual Cannes Film Festival. On the 24th of May she will attend the L'Oreal Paris – amfAR (The American Foundation for AIDS Research) dinner and after-party. L'Oreal Paris is a presenting sponsor of this traditional dinner held to raise funds in the fight against AIDS, thereby supporting an international event that is a key part of the Festival.
To keep the red carpet tradition alive, Aishwarya, a regular at the Cannes Film Festival will also light up the red carpet on 25th May, making it her 11th appearance at Cannes. Says Aishwarya, "11 glorious years….the journey so far has been remarkable and truly memorable. This year, I am especially privileged as I also get to lend my support to a very important cause at the amfAR dinner, by helping raise funds for the fight against AIDS, at the AMFAR auction. It makes me proud that L'Oreal Paris sponsors and supports our fight against AIDS through this special amfAR event at Cannes.
Founded in 1946, the Cannes Film Festival is one of the world's oldest and most prestigious film festivals and L'Oreal Paris has been the official make-up artist of the festival for 15 years. The amfAR event co-sponsored by L'Oreal Paris aims at raising money against AIDS. It is one of the world's leading non-profit organizations dedicated to the support AIDS research, HIV Prevention, Treatment education, and the advocacy of sound AIDS related public policy.
Besides Aishwarya, Gwen Stefani, Milla Jovovich, Aimee Mullins, Liya Kebede, Doutzen Kroes, Natasha Poly, Julianna Margulies, Diane Keaton will represent L'Oreal Paris at the amfAR Gala. Alec Baldwin, Kenneth Cole, Milutin Gatsby, Michel Hazanavicius & Berenice Bejo, Ryan Kavanaugh, Karl Lagerfeld, Hugh Laurie, Carine Roitfeld, Harvey Weinstein are some of the other key people who will be at the amfAR dinner.
(For updates you can share with your friends, follow TNN on Facebook and Twitter )