Saving genocidal state of Sri Lanka as a continuity of the long European colonial order in South Asia has now become an obsession with India and the USA, more than the Sinhala nation. From Congress-BJP-CPM to VCK in India, and from hijacked sections of the diaspora in North America to London, the orchestration is to make the genocide-affected Eezham Tamils to denounce their right to protection, right to self-determination, and most importantly their right to call themselves a nation. Sumanthiran's TNA, instead of working for an alternative secular state in the North–East, only mumbles the gagged situation in between the lines in the presence of Indo-US diplomats in Jaffna. The diaspora still don't know where to address the issue. Law lecturer Guruparan Kumaravadivel in Jaffna on Sunday aptly brought out the unworkability of India-conceived 13 Amendment.
PDF: Handout by Jaffna University Law faculty lecturer Guruparan Kumaravadivel [Tamil]
The real culprits of the genocidal war are now out to handle the situation directly.
Right from leading KP into the hands of Gotabhaya, and instructing the TNA in captivity to denounce independence in the election manifesto, the effort of the real culprits was to absolve them from the crimes and at the same time to achieve their agenda.
Speech by Mr. Guruparan Kumaravadivel [MP3 Audio]
The call of the US Asst. Secretary of State Robert Blake for 'new leadership' to emerge among Tamils to handover 'devolved' powers within a united Sri Lanka became the lure for many, thinking that they are the 'articulating elite' in the island and in the diaspora to get hijacked.
If the USA and India are not seeing the fundamentals of a nation needing protection and self-determination, then it is not the 'new leadership' of submission, but there will emerge only a new resistance democratically and directly targeting the real culprits, commented new generation political circles in the island, expressing their contempt to what the gagged TNA is doing in the island and what the diaspora is doing especially in North America and in London.
In a development in the last couple of days, the VCK leader Thirumavalavan in Tamil Nadu, who earlier gave a memorandum to his alliance leader Sonia Gandhi to resolve the issue of 'Sri Lankan Tamils' through implementing LLRC recommendations, has now announced that he sticks to Tamil Eelam and would work for it.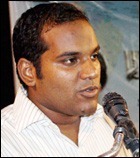 Meanwhile, speaking at the TNA meeting in Jaffna on Sunday in the presence of Indo-US diplomats, Jaffna University law lecturer Guruparan Kumaravadivel brought out a dissection analysis of the 13 Amendment in showing how it would never work in the island.
His analysis in Tamil is produced herewith for those who still think that there is 'some thing' in it for the plight faced by Eezham Tamils.
PDF: Handout by Jaffna University Law faculty lecturer Guruparan Kumaravadivel [Tamil]
Speech by Mr. Guruparan Kumaravadivel [MP3 Audio]
(For updates you can share with your friends, follow TNN on Facebook and Twitter )