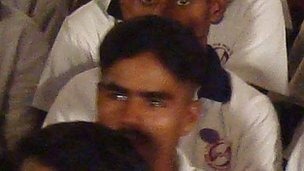 Three Sri Lankan Tamil Tiger rebels who took part in a rehabilitation ceremony last year may subsequently have been taken away by the authorities, a rights campaigner has said.
It has emerged that parents saw photos of their children at the ceremony attended by President Rajapaksa but now know nothing of their fate.
Since 2009 more than 11,000 people have been detained for varying periods.
The authorities say they were attached to the Tamil Tigers.
They are, or have been held, in what are called rehabilitation camps before rejoining their families at big, official ceremonies.
But the government failed to reunite at least three young men with their families at a ceremony at the president's office, attended by him, last September.
It did not even tell their families that the men were in the camps or attending the event – the parents only learned their sons were present when they saw them in a newspaper photograph.
'No registration process'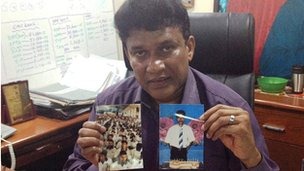 Human rights campaigner and former MP Mano Ganesan says that when they saw the photograph they made inquiries with police, the government and the army but got only "negative responses". He said that there may have been similar disappearances after earlier ceremonies.
Mr Ganesan says the authorities have offered no explanation as to the fate of the three men
The official in charge of rehabilitation, Brigadier Dharshana Hettiarachchi, said earlier that all the young people were handed to their families.
But he has now told the BBC that he is "looking into" these cases and asked concerned parents to visit him.
Brig Hettiarachchi acknowledged there was no registration or signing process when alleged ex-combatants rejoin their families.
Interviewed by the Indian paper The Hindu on Wednesday, the mother of one of the three missing men, Saroja Devi, from Mullaitivu, said her son had once been conscripted by the Tamil Tigers but escaped rebel-held territory by boat from Mullaitivu in July 2008.
She said he had surrendered to the navy but she had never seen him again until recognising him and two friends in the photograph taken at the ceremony.
Most official "handover" ceremonies have taken place in northern Sri Lanka – but the one on 30 September was at Temple Trees, office of the Sri Lankan president, in the presence of several foreign ambassadors. Some 1,800 former rebel cadres were said to be present.
(For updates you can share with your friends, follow TNN on Facebook and Twitter )