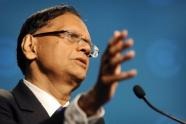 Sri Lanka is looking to ease growing friction with the United States, but it faces exasperation from policymakers who see little progress on concerns three years after a bloody civil war ended.
Foreign Minister Gamini Lakshman Peiris meets Friday with Secretary of State Hillary Clinton after a week of talks in Washington that come after the United States spearheaded a UN resolution pushing Sri Lanka over alleged war crimes.
US officials, who had previously been willing to give Sri Lanka more time, hoped that the rebuke would lead the island to ensure accountability over the bloody 2009 finale to its decades-long war against Tamil Tiger rebels.
Sri Lanka rejected the resolution as interference. Peiris insisted that the differences with the United States were overstated, noting that the text called for domestic action rather than an international probe into the war.
Peiris, addressing the Woodrow Wilson International Center for Scholars, called for "productive" ties with the United States and said he would speak to Clinton "very openly and very sincerely about what we're achieving in Sri Lanka."
Peiris said that Sri Lanka has resettled 98 percent of the people displaced by the war and pointed to the efforts of his country's Lessons Learnt and Reconciliation Commission.
"There should not be a perception in the country that this is some kind of process that is donor-driven or excessively foreign-owned," he said.
"If that feeling is engendered, inevitably it would trigger a reaction that would be unhelpful in terms of implementing the reforms that are required at this moment in our history," he said.
Touching on issues of international concern, Sri Lanka recently released information on thousands of people detained under tough anti-terror laws and took a step toward freeing Sarath Fonseka, who was jailed on corruption charges after unsuccessfully running against President Mahinda Rajapakse.
But critics say that Sri Lanka has held virtually no one accountable for abuses. Rights groups say that up to 40,000 civilians died as Sri Lanka delivered a death blow to the Tamil Tigers, who had also been criticized for ruthless tactics including suicide bombings and child soldiers.
Sadanand Dhume, a resident fellow at the conservative American Enterprise Institute, said that he may have been sympathetic to Rajapakse after the end of the war but fears that the Sri Lankan leader "is in real danger of losing the peace."
"His inability to move beyond triumphalism, the inability to show any magnanimity in victory, has really been his biggest political flaw," Dhume said.
Dhume said that the United States has not given up on Sri Lanka, which has historically been friendly to the West, preserved democracy in the darkest years of its war and clocked record 8.3 percent growth in 2011.
But Dhume said that the United States had hoped on inviting Peiris that the foreign minister would come with concrete achievements on areas of concern.
"There doesn't seem to be much movement, so in that sense what we're seeing is a very unfortunate but continued decline in the relationship," he said.
The Tamil diaspora has led a pressure campaign that has included screenings of two documentaries by Britain's Channel 4 that purport to show Sri Lankan troops executing prisoners and sexually assaulting female guerrillas.
Representative Michael Grimm, a Republican from New York, told a screening on Capitol Hill that Sri Lanka can choose to "continue to turn inward, to rely on China and India as allies."
"Or they can make amends with the Western world, with India, with all of those that believe that we need to devolve power to the Tamil majority in the north and to bring justice to all those responsible for the most egregious war crimes," Grimm said.
Amnesty International hoped that Clinton would press Peiris and renewed its call for the immediate establishment of an international investigation into abuse allegations.
(For updates you can share with your friends, follow TNN on Facebook and Twitter )