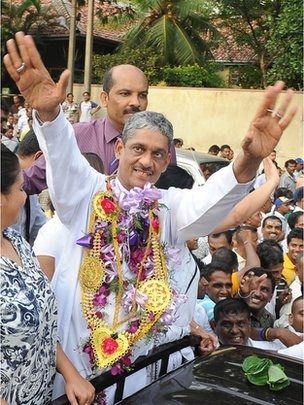 Sri Lanka must co-operate with any international investigation into alleged war crimes, ex-army chief Sarath Fonseka has told the BBC, a day after his release from jail.
He said some Sri Lankan leaders were "hiding their faces" over the conduct of the war, as if they were guilty.
But Mr Fonseka, who led the army to its 2009 victory over Tamil rebels, denied thousands of civilians were killed.
There have have been repeated calls for an international probe into the war.
Sri Lanka's army put an end to 26 years of brutal civil war when they defeated the separatist Tamil Tigers in May 2009.
Subsequently Mr Fonseka fell out with President Mahinda Rajapaksa over who should get credit for that victory.
He was jailed for corruption in 2010 after challenging him for the presidency.
Nevertheless the final phase of that war has been a source of considerable controversy, with both sides accused of war crimes.
Human rights groups estimate that up to 40,000 civilians were killed in the final months of the war. The government recently released its own estimate, concluding that about 9,000 people perished during that period
'Not scared'
In a BBC interview, his first on a one-to-one basis since being freed on Monday, Mr Fonseka said that the attitude of some Sri Lankan leaders gave the world the impression that they were guilty of something.
But Mr Fonseka said that he – and not the country's political leaders – was in charge at the end of the war and that he would not be "scared to come before anybody" asking questions about the end of the war.
He rejected accusations that thousands of civilians were killed in the closing phase of the army's offensive.
The former army chief said he wanted to be involved in politics to change what he called Sri Lanka's "corrupt political culture" – even if he didn't get to serve as president or be re-elected to parliament.
His dramatic fall from grace came after the close of the war when he challenged President Rajapaksa for the presidency.
After the former four-star general lost the presidential election he was arrested and imprisoned on corruption charges. He has been described by the US as a political prisoner.
He served more than two years in prison until the president signed a pardon over the weekend.
Sri Lanka marked the three-year anniversary of the end of the 26-year civil war at the weekend, and held a large military parade in the capital, Colombo.
The war began in the 1980s, with Tamils pressing for self-rule against a backdrop of an increasingly assertive Sinhalese nationalism.
(For updates you can share with your friends, follow TNN on Facebook and Twitter )