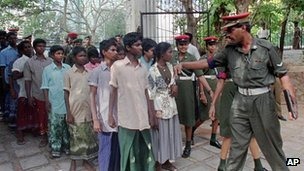 Sri Lanka has been removed from a United Nations blacklist after making progress in child welfare.
The UN's annual report, Children and Armed Conflict, praised the country's efforts to improve health and education and to trace missing children.
The whereabouts of almost 1,400 children who were recruited to fight in Sri Lanka's civil war is unknown.
UN Secretary General Ban Ki-moon said Sri Lanka had made serious efforts to trace those children.
He said this was the reason the country had been removed from the UN's list.
Sri Lanka was also praised by a Unicef board member, who said the government's efforts to distribute money for vaccinations and schooling during the war "amazing".
He also said the country now had some of the best child-health indicators in the region.
Sri Lanka's civil war came to an end in 2009, after 26 years of conflict and up to 100,000 casualties as Tamils fought for for self-rule.
The BBC's Charles Haviland in Sri Lanka says the country was once notorious for using children in conflict.
It is estimated about 7,000 children were recruited to fight for the Tamil Tigers alone, he says.
Investigations by Sri Lanka's National Child Protection Agency aimed at tracing 1,400 of these children still missing are ongoing.
Mr Ban said the military had vacated a number of schools it had been occupying, but said he was concerned that 15 facilities were still being used by security forces.
Fifty-two countries are named on the UN's blacklist, with Syria, Yemen and Sudan among the most recent additions.
The report on Syria listed incidents of the torture and killing of children, as well as the use of children in conflict.
(For updates you can share with your friends, follow TNN on Facebook and Twitter )