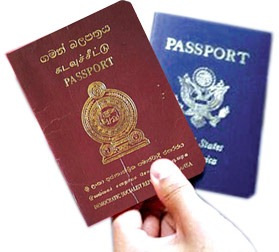 The Immigration and Emigration Department will begin processing dual citizenship under a strict formula within the next three months.
Controller of Immigration and Emigration Chulananda Perera told the Sunday Observer that under the new criteria a Sri Lankan holding citizenship of another country will be granted permanent residency for five years before he becomes eligible for dual citizenship.
"This will be the norm for all categories of applicants in the future," he said.
Sri Lankans living elsewhere need to submit details on how he or she obtained the citizenship of the other country and the intention to seek dual citizenship in Sri Lanka to process his application.
The information supplied will be verified from the Sri Lankan missions overseas and evaluated by a panel of officials representing the Immigration and Emigration Department and other state stakeholder institutions before the permanent residency and citizenship is finally granted.
The new system at a revised fee of Rs.200,000 to be paid in two instalments during the permanent residency and citizenship applications procedure received the green light from the Cabinet recently.
Amendments to the current legislation, for instance Section 14 of the Immigration Act which restricts the visa for five years, is needed to give effect to the new set of regulations that govern the issuance of future dual citizenship.
"We have already drafted the amendments and presented them to the Legal Draftsman for fine-tuning," Perera said adding that he was hopeful that the legal barriers would be cleared for implementation within the next three months.
The issue of dual citizenships was suspended since early last year in view of the new procedure being drafted.
(For updates you can share with your friends, follow TNN on Facebook and Twitter )