Heritage Foundation, a Washington-based conservative think tank, commenting on the attempts to ouster journalist Matthew Lee of Inner City Press from covering the UN, said Wednesday that the US "absolutely should stand firm in protecting the principle of freedom of the press," and "make clear to the U.N. that it [the US] supports Lee and other controversial journalists trying to retain their press credentials." Heritage's Brett Schaefer also noted that journalists commenting on investigations being carried out by the United Nations Correspondents Association (UNCA) for "unethical and unprofessional behavior," have said that personal animosity of some members of UNCA has overridden professional judgement.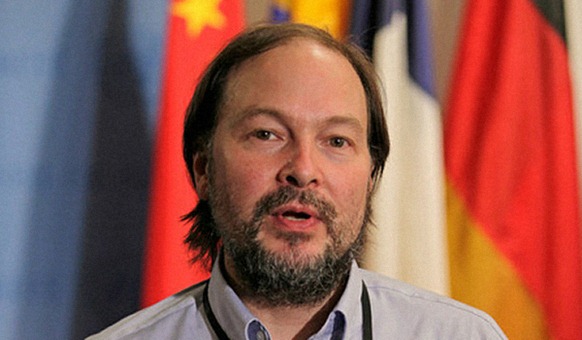 "Regarded as abrasive by some of his colleagues, Lee has had volatile arguments with other UNCA reporters, and has frequently complained about other journalists' failing to credit him for breaking news. He has also written stories accusing the UNCA president, Giampaolo Pioli, of a conflict of interest involving Sri Lanka. These personal disputes lie at the heart of the UNCA investigation," Schaefer, the Jay Kingham Fellow in International Regulatory Affairs at the Heritage Foundation, said in his opinion piece.
While the self-governing UNCA may oust Lee from its membership, UNCA membership is not a pre-requisite for obtaining UN press credentials, the U.N. Media Accreditation and Liaison Unit (MALU) which grants press credentials said.
Lee's current credentials expire in August.
"Lee is persistent, is willing to ask uncomfortable questions, and has cultivated an impressive network of sources within the U.N. In short, he's a pain in their neck at every press briefing," Schaefer wrote, and added "Lee is also unusual in that he focuses on the inner workings of the U.N. — stories that are off the radar of larger news outlets. For instance, Lee broke the story about the discovery of 40 pounds of cocaine in a diplomatic pouch in the U.N. mailroom."
"He may not always get it right, but Matthew covers the U.N. like no one else, often scooping much larger news organizations," the New York Post's Benny Avni says. "Matthew digs into how it works — and often into how it doesn't."
Matthew Lee also earned Colombo's ire by consistently raising war-crime issues against Sri Lanka's Acting permanant UN representative, Shavendra Silva, and complicity in the white flag incident against Sri Lanka's Permanent Representative to the UN, Palitha Kohona.
(For updates you can share with your friends, follow TNN on Facebook and Twitter )