SL President Mahinda Rajapaksa's Colombo government is widely blamed for handling new and temporary appointments in the Northern province for electoral political purposes. Recent temporary appointments have been provided with the condition that the employees should extend support the UPFA government in the provincial elections, unemployed graduates demanding justice said. On Thursday, a section of unemployed graduates, who have been sidelined in such appointments, demonstrated in front of the District Secretariat in Jaffna amidst harassment from the SL military intelligence and police commandos.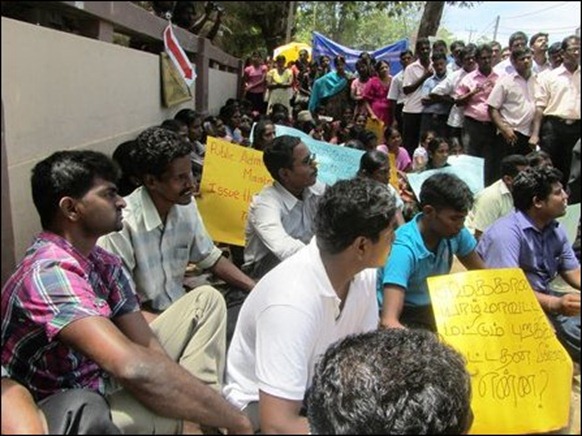 Sri Lankan riot control police commandos were deployed at the site and the SL police and the SL military intelligence threatened the demonstrators to cancel their protest. However, the unemployed graduates who began their protest at 8:30 a.m. continued the demonstration till 12:30 p.m.
Colombo has given temporary employments to a section of unemployed graduates for 6 months both in North and East. Most of the newly appointed graduates in the government sector have been asked to work with collecting statistics without any permanent assurance on employment on a 10,000 rupee salary per person. EPDP and UPFA politicians have decided the candidates for such appointments.
When the protestors attempted to hand over an appeal to the SL Governor of North, Maj Gen (retd) GA Chandrasiri, the officials at his secretariat declined to allow the protestors to meet the colonial SL governor.
TNA parliamentarian E. Saravanapavan visited the protesting graduates and discussed legal ways to challenge the injustice in the appointments.
Meanwhile, informed civil sources in Jaffna said that the SL minister and EPDP paramilitary leader Douglas Devananda has been competing with SLFP's Jaffna District Organiser R. Angayan to win permanent appointments to those who have been working with them.
Another minister in Mahinda Rajapksa's cabinet, Rishard Badurdeen from Mannaar, has been dominating the agenda of government sector appointments in Mannaar, Mullaiththeevu and Vavuniyaa districts to those who have been supporting him.
Only around 500 of the temporarily employed would be given permanent employment in the first step and the politicians of SLFP and EPDP in the UPFA alliance have been influencing the public administration ministry to provide the permanent employment to their supporters. Following the competing among the UPFA personalities, the ministry in Colombo has been instructed by the Rajapaksa administration to share the appointments among the supporters of the three competing personalities in the Northern Province, the sources further said.
More than 3,000 unemployed graduates have been demanding employment in Jaffna and Vanni alone throughout the last 6 years.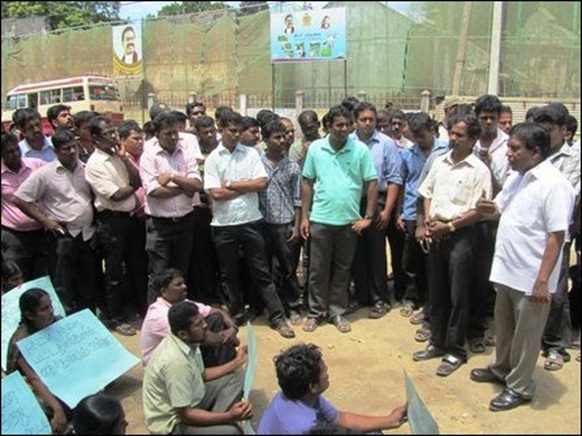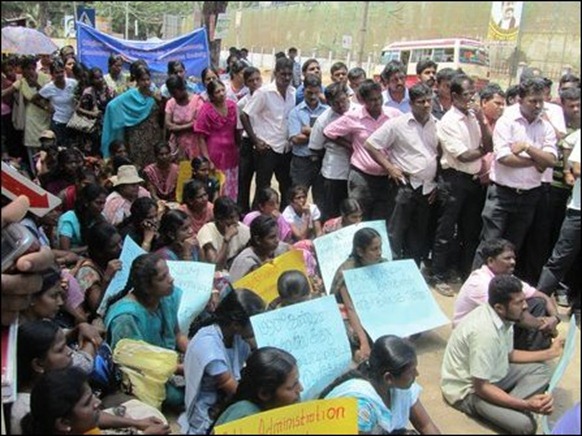 (For updates you can share with your friends, follow TNN on Facebook and Twitter )